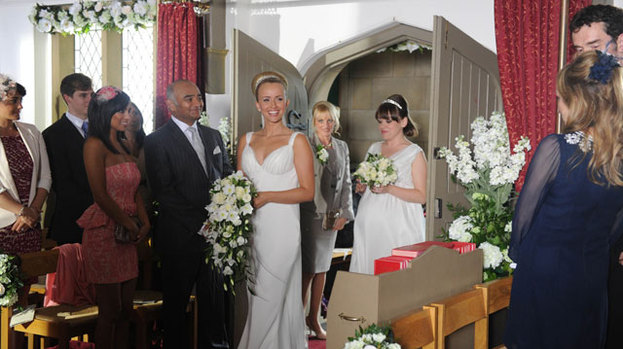 The cast of *Emmerdale *have admitted they're really nervous for the highly anticipated 40th birthday live show next week.
Nicola Wheeler, who plays Nicola King in the show, confessed she's really worried about blurting out bad language live on TV.
"Sometimes if I forget a line, I swear!" she said in an exclusive interview with OK! magazine.
"I'm terrible for that. Obviously I can't do that on live TV. That would be really bad."
When asked about the major character being killed off, Nicola admitted it was a shock for the whole team.
"We were devastated when we found out who it was," she said.
Adam Thomas, who plays Adam Barton, has been taking advice from his brother Ryan Thomas, who was in the* Coronation Stree*t live episode, to settle his nerves.
"He had one line, so we'll have to compete letter by letter," he said. "Who had a bigger role?
"No he's supportive. He said to me that the feeling you get afterwards, there's nothing greater. So I'm looking forward to it."
Do the cast think that, if the live show goes smoothly, it could give them a shot at winning soap of the year?
Natalie Robb, who plays Adam's mother, Moira, isn't so sure and says picking up gongs isn't what's important to the cast.
"We didn't join Emmerdale to win awards – we all just love acting."
Will everything go smoothly for their historic live episode? Tune in on Wednesday, October 17 to find out!
More About Emmerdale 40th birthday