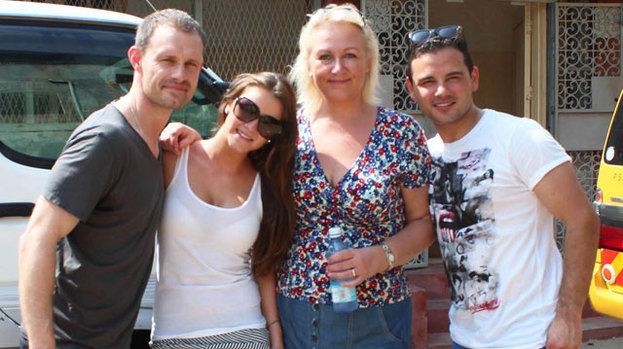 Four members of the Coronation Street cast took a break from the cobbles recently to film a new documentary aiming to spread a life-saving message in Africa using mobile street-theatre.
Corrie Goes to Kenya sees actors Brooke Vincent (Sophie Webster), Sue Cleaver (Eileen Grimshaw), Ryan Thomas (Jason Grimshaw) and Ben Price (Nick Tilsley) flying to Africa to educate people on the danger of HIV and drug abuse.
Working with the charity S.A.F.E., the four used their Corrie experiences to recruit local actors and to produce a series of mini-plays, which they performed to a live audience in the African bush.
Before getting started, the actors paid a visit to the local sex education centre and had a tour of one of Kenya's villages, which gave them an idea of how to go about structuring their plays and what information to include.
The group were pleasantly surprised when they spotted African equivalents of Corrie hotspots The Kabin, Roy's Rolls, Underworld and the Rovers, so they felt right at home in the African wilderness!
Speaking about the documentary, S.A.F.E.'s development director Sarah Kennedy said: "Corrie Goes to Kenya highlights the continued stigma and misinformation that surrounds HIV/AIDS across Africa, as well as the difficulties in overcoming these challenges in a country where most people do not have access to a TV and only 85 per cent of adults are literate."
Part one of Corrie Goes to Kenya will be broadcast on STV and ITV at 9pm on Friday, August 17.
MORE FROM THE COBBLES