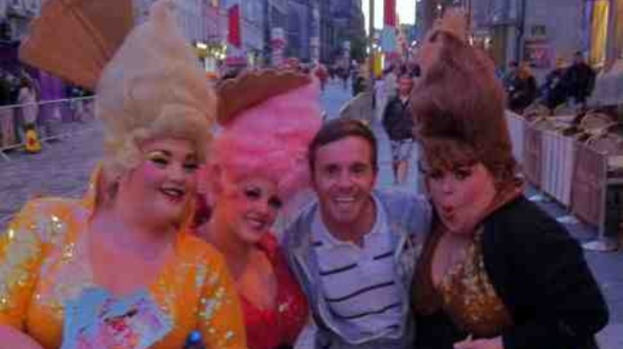 Hello Nightshifters
As I type this blog I am travelling back on a train from the Capital, I have just spent a day at the Edinburgh Festival and not only am I exhausted but I have also been thoroughly entertained.
The atmosphere is absolutely fantastic, the streets of London might be rumoured to be paved with gold, Edinburgh on the other hand is paved with people…street entertainers, singers, dancers, mime artists, food stalls and so many crazy, quirky characters. Lots of people handing out flyers for Comedy shows, Theatre shows, musicals, bands, gigs, events - you name it there really is something for everyone and the thing I loved about it most is that there is always something just about to start. Traditionally you would find a performance starting at 7.30 but not in Edinburgh -9.30am, 11am, 12.10pm, 3.45pm 5.20pm, 4.55pm, Midnight! It is fantastic to know that there is such a quick turn around for the artists, theatre staff and audience, when one show finishes and the audience are leaving there is another audience waiting to take your seat and another artist waiting to take to the stage.
I was lucky enough to go to the Tattoo last year. We went late at night which meant I missed out on all the activities during the day however I certainly made up for it today, the sun was shining, the sun-glasses were on and with a spring in my step off I trotted to see some fantastic entertainment. The first show I caught was Edward Reid, the Coatbridge boy who stormed the audience last year on STV'S Britain's Got Talent, the show was absolutely brilliant. Edward really knows how to entertain an audience, he had all of us in the palm of his hand and everyone wanted more, myself included. I then went to see an Australian act (the festival is full of people from all over the world) called Bob Downe, a camp singing sensation who formerly supported Lily Savage - well it is clear to see why this man has his own show and the funniest thing is the bad mannequin wig he wears is how my real hair used to look! Maybe I should have asked to try it on?
The final show of the day and a perfect way to round things off was called Knickerbocker Glory performed by The Sundaes, a modern version of the Roly Poly's (I know there are some people thinking "who are they?") They sang live, had some fantastic costumes and the audience absolutely loved them, these girls should be on the telly. They are SO entertaining and I was lucky enough to meet them!
There are SO many shows to see it's mind-blowing, and you really cannot do it in one day, I'm not back on The Nightshift until Friday night so I might head home now, have a sleep and do it all over again tomorrow.
Until next time....
Liam