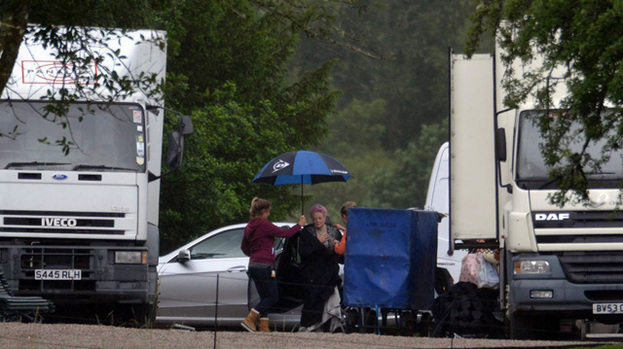 The cast and crew of period drama Downton Abbey have travelled up north to shoot scenes for the Christmas special in Scotland.

Cast members were seen in Inverary this week, arriving in the pretty Argyll town as they got ready to film for the hit drama.

Actors from the hugely popular programme spotted in the town included Maggie Smith ad Huhg Bonneville, with locals excited to see the stars frequent local amenities including the Loch Fyne Hotel.

The cast were snapped as they shot some scenes at the striking Inverary castle, the seat the Duke of Argyll, Chief of the Clan Campbell, set in 16 acres of lush gardens.
Unfortunately the Scottish summer weather was up to its old tricks as usual, with Downton stars including Smith spotted being sheltered from drizzly rain by umbrellas.

Downton Abbey is set for a big return on TV screens this September, as the drama comes back for a third much-anticipated series.

The latest series is set in the early 1920s and picks up following the drama that surrounded Bates after his murder conviction, and continues storylines including Mary and Matthew's engagement.

Martha Levinson, played by Oscar winner Shirley MacLaine, joins the cast as as Lady Grantham's mother, and is sure to ruffle a few feathers as she makes her presence among the aristocratic Crawley clan known.

But the family have other important issues to deal with too, including dealing with being thrust into the middle of a financial crisis.

There may be trouble in paradise for Mary and Matthew too, with suspicious of disloyalty in the family.

And all is far from well for John Bates and his wife Anna either, as the couple struggle to lead normal lives.

The first two series of Downton Abbey proved to be a huge hit with audiences, with storylines included the Crawleys facing the harsh realities of war, as well dealing with the effects of the Spanish flu pandemic of 1919. The drama was recently nominated for a mammoth 16 Emmy Awards.

Downton Abbey series three will be shown on STV and ITV in September.

MORE DOWNTON:
More About Downton Abbey
People who read this story also read