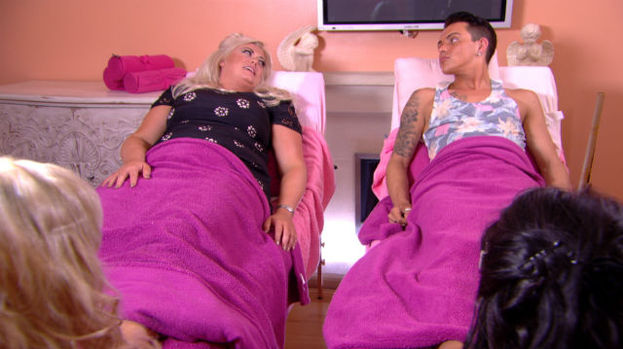 There's never a dull moment in TOWIE-land, and in the latest instalment of the reality TV show it looks like relationship woes are at the centre of all the drama.
With Jessica convinced that Ricky has cheated on her, she has a heart to heart with her mum, but it does nothing to stop her imagination going into overdrive.
Nanny Pat isn't very impressed with Ricky either and tells Big Mark: "If he does hurt her, he'll get one of them, and I mean it. I've done it before..."
Oblivious to all the drama, Ricky is off out for a beer with the lads and tells them: "It's like a little family I suppose, me, Jess, little dog."
Chris ruins the sentiment, however, when he asks the inevitable question: "Snog, marry avoid? Nanny Pat, Carol or Jess?" Lovely…
Meanwhile, Arg has managed to get on the wrong side of everyone after his recent treatment of Lydia at Joey's 80s themed party, and he is soon regretting what he said to her when Sam, Billie and Mick all have a pop at him.
Sam is pretty angry but that's nothing compared to Mick, who tells a bewildered Arg: "It was disrespectful to her, to you, to Gemma, to everyone that was around it, to reduce the girl into tears like that.
"If you was in my club and that was going on, the doorman would have hoofed you out the place. It was bang out of order."
It doesn't seem like Gemma was too impressed with her boyfriend's antics either as she turns to Joan Collins for some advice and opens up to her therapist Bobby about her relationship troubles.
""He either makes a big bold statement and woos me or that's it, see you later James," she says. "Can you mend a broken heart with the rubbing of feet? I think I've got something wrong with me."
Don't miss The Only Way is Essex on ITV2 tonight at 10pm.
MORE TOWIE NEWS AND GOSSIP
People who read this story also read