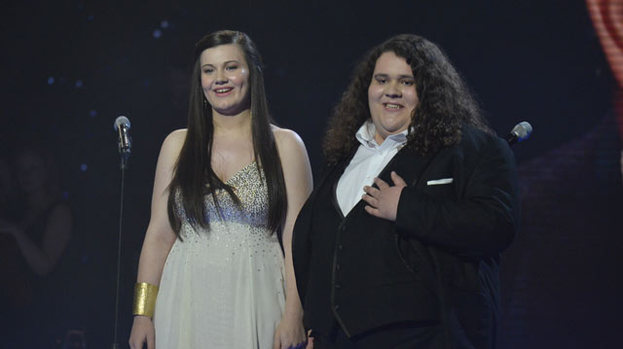 Britain's Got Talent runners-up Jonathan Antoine and Charlotte Jaconelli have been snapped up by Simon Cowell's Syco label, and are planning to release their debut album this September.

The opera duo, who came second to dog act Ashleigh and Pudsey in the final earlier this month, are expected to release their offering on September 3.

And in order to make sure the album is ready, Simon Cowell has booked the pair in for back-to-back recording sessions, The Sun reports.

A source told the paper: "Simon knows that to make money from them he needs to move fast. Get the first album out as soon as possible before people have moved on.

"September is also a good time as The X Factor will be in its live stages so there is a chance to get them on the show and plug the album."

The album will feature a mixture of new songs, as well as covers of The Prayer – the song which the pair stunned audiences with at the first audition as well as during the grand final.

Simon said: "This show is designed to give people like Jonathan and Charlotte an opportunity. Their debut album is going to be stunning."

Jonathan added: "I'm still pinching myself that we are actually making our own CD," while Charlotte dubbed it a "dream come true"

Earlier this week Jonathan and Charlotte posted a message on his Twitter page that read: "We hope you're all having a great Tuesday! We're just so excited for things to come and want to thank everyone for your continued support! x

Last night Jonathan also posted a message on his own Twitter page that said: "Really looking forward to a busy day tommorrow! Should be great. Lots of love to you all! <3."
MAKING SWEET MUSIC:
People who read this story also read