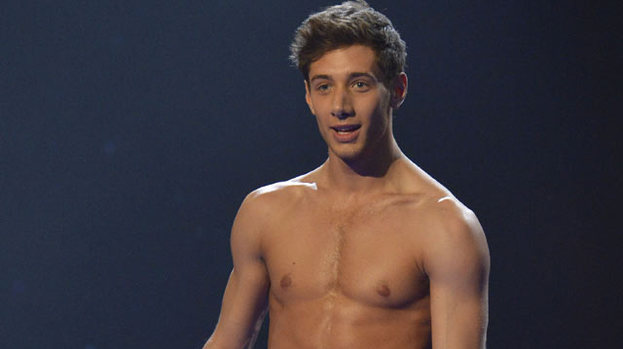 It seems like this year's Britain's Got Talent has been jam packed with even more brilliant acts than ever before.
Tonight was the last live semi-final of the week before Saturday's grand final where 10 acts and one wild card will go head to head to battle it out for the Britain's Got Talent crown.
It was the chance of a lifetime for tonight's semi-finalists and getting the show off to a flying start were Hungarian basketball acrobats Face Team. The high flying athletes gave an action packed performance that saw them combine acrobatics on trampolines and basketball for an act that scored highly with the judges.
Alesha, gave them a standing ovation, and said: "I thought that was an incredible start to show. The choreography was brilliant... you should be proud."
Meanwhile Amanda called it "phenomenal" and "flawless", and Simon said: "This was even better than first time - you actually risked your life… it was outstanding."
Next was Scottish laser harpist Greig Stewart whose unique talents didn't seem to strike a chord with the judges.
The Glasgwegian musician upped the anti for his semi-final performance adding dazzling lights and backing dancers, but the judges felt he wasn't experienced enough. Amanda told the Scot: "It's too nerdy and not for me at all."
An act who had more luck with the panel was 21 year old cyr wheel performer Billy George. The Yorkshireman performed a dizzying acrobatic feat in his 18 kilo steel ring to the Rizzle Kicks' Mamma Do The Hump.
Alesha called him the "hooping version of Billy Elliot" while admiring his perfectly toned abs. Meanwhile, Amanda, looking hot under the collar, said: "You are kind of like the Peter Pan of the hoop world and I believe! I believe!"
Even Simon was impressed with the sizzling cyr performer telling him: "On paper this is quite boring but it's incredibly skilful... I thought what you did was absolutely brilliant."
Following the hoop hunk was Dalek impressionist Martyn Crofts, this time complete with a bejewelled saucepan on his head to celebrate the Jubilee.
After a shambolic performance Simon told him: "That was arguably the most stupid act I've ever seen on the show... I'm urging Doctor Who fans not to put you through." Not a fan then we're guessing!
Moving on swiftly, young comedian Callum Oakley got the panel chuckling with his stand up routine, however it seemed they didn't think he was likely to be this year's winner.
Amanda Holden said: "I honestly think you've got the beginnings of a good act. I'm not sure if it's all there but I think you've got potential."
Simon Cowell said: "I thought your routine at the audition was better than tonight but that doesn't matter as it's a springboard for you and you are good at this."
Talented teenager Hope Murphy wowed the judges too, David Walliams said: "You have the best voice in this competition" after the 16 year old sang an acoustic version of Forever Young.
That wasn't all, Simon told her: "You remind me of a young Adele". Praise indeed!
The next act, Strictly Wheels, weren't as successful. The pair gave a fun-filled routine to Olly Murs' hit Dance With Me, but the judges weren't as impressed with their semi-final performance as their initial audition.
Alesha Dixon said: "You are amazing, but the first time I saw you, you were more daring so it didn't live up to the last audition, but you're still incredible at what you do."
Amanda Holden agreed: "I felt a little bit disappointed and under whelmed tonight. You did a good job but I was just a little bit under whelmed."
One act that certainly made waves were synchronised swim team Aquabatique whose Bond themed routine in "human aquariums" had Simon asking them to move in with him!
He said: "I thought it was absolutely brilliant. I know how difficult this is.... I loved the songs. I'm having one of these built in my house so if you don't win you can come and live in my aquarium." Now there's an offer…
The final act to perform on the show was Irish singer songwriter Ryan O'Shaughnessy who almost crashed out of the show when it was discovered he was already contracted to be on another TV programme. Lucky for us he changed his plans and we were treated to another heart-melting love song from the young Romeo.
Alesha Dixon gushed: "Whatever happens in this competition, I believe you will be a successful songwriter."
Amanda Holden said: "As Adele proved, I think she did a multimillion selling album through heartache and hopefully you will go the same way."
Meanwhile Simon told him: "You are a brilliant, brilliant songwriter. You were on The Voice in Irealnd? Their loss is our gain."
With all the votes in it was time to see who would continue on to Saturday night's live final and who would be sent home. Dark horse Ryan got the most public votes and so was sent through to the finals straight away, leaving the judges to choose between swimmers Aquabatique and Billy George.
It was clearly a tough decision for the fab four and after much deliberation Simon, Amanda, and David opted for Aquabatique while Alesha voted for Billy.
This means the water babes are the last act through to the final and will join Sam Kelly, Nu Sxool, Only Boys Aloud, Ashleigh and Pudsey, Jonathan and Charlotte, Kai and Natalia, Molly Rainford, and the Loveable Rogues to battle it out for the Britain's Got Talent crown.
This year the judges are also going to add a wild card act to the finals picked from one of the semi-final acts that didn't make it through. Who do you think should get the lucky spot? Leave us a comment and let us know what you think..
A BRIT MORE GOSSIP
People who read this story also read