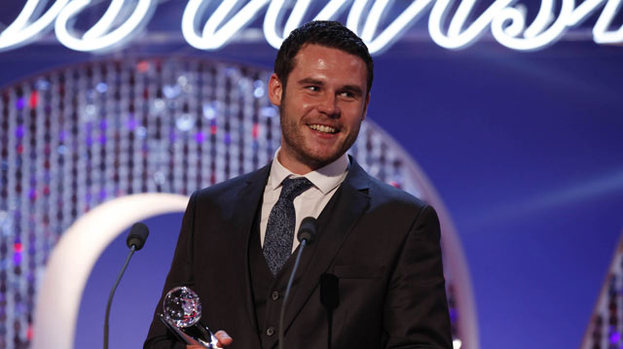 Emotions were running high as Emmerdale star Danny Miller lifted the title of Best Actor at the British Soap Awards 2012.

Danny joined the Dales in 2008, taking on the role of troubled teen Aaron Livesy.

Since then, he has been praised for his portrayal of some of the most compelling and controversial storylines in the soap's history, most notably when Aaron was involved in the assisted suicide of his boyfriend Jackson Walsh and the subsequent self-harming storyline his character endured.

Danny won Best Actor at last year's awards, but having now left Emmerdale, tonight's award meant even more to the talented star.

Accepting the gong from Stefanie Powers, he said: "Thanks to everyone who took the time out to vote. I really genuinely didn't expect it."
Praising the Emmerdale cast and crew, he added: "I'd like to take this opportunity to dedicate this award to three and half of the best years of my life.I love you all to bits and miss you."
It was the second award of the night for Danny, as 'Jackson's Choice' won Best Storyline.

And we may not have seen the end of Aaron Livesy just yet...

Speaking to What's On TV last month about his decision to leave the soap, Danny said: "When I told them at Emmerdale, they were so supportive of me and said they would leave the door open.

"I am really going to miss this place."

He also spoke about his fear of venturing to pastures new.

He said: "I am really nervous about getting out in the big wide world.

"When I made the decision to go, I hadn't really thought about what would happen afterwards.

"I don't have anything lined up and it's really quite daunting. It was such a hard decision to make."

Realising how many people love and admire Danny's work, we don't think it will be too long before he's back on our screens.
SOAPY BUBBLE