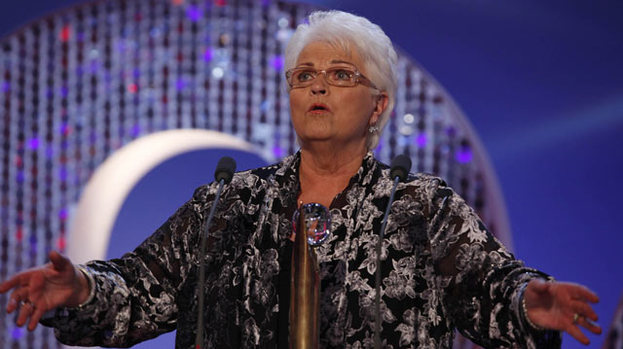 Pam St. Clement received the Lifetime Achievement award at the British Soap Awards 2012, for her role as the formidable Pat Evans in EastEnders.

Pam is one of the longest running actresses to star in the soap, having joined in 1986.
The much-loved actress bowed out of Albert Square on January 1 this year, after her character, Pat, passed away after being diagnosed with pancreatic cancer.
Throughout the years, Pat has been at the centre of some of the soap's most gripping and dramatic storylines.
From her relationships with numerous males – most notably Frank Butcher, who was the love of her life - to her time running the ill-fated PatCabs, which saw her end up in prison after knocking down a teenage girl, Pat was certainly a colourful character on the soap, in more ways than one.
Family was at the centre of everything Pat did and Pam paid tribute to the actors and actresses who have played her relatives over the years.
Two of those nearest and dearest to her, Charlie Brooks and Sid Owen, who played her step-children Janine and Ricky Butcher, presented her with the award.
After watching a moving montage from her colleagues, Pam said: "Thank you. It's not often I'm at a loss for words, but I really am. This has come as such a surprise. I owe so much to EastEnders.
"For all the marvellous producers, actors and particularly my lovely family, who really are like family."
Despite leaving EastEnders, at 69, Pam doesn't intend to retire from our TV screens altogether.
She is currently featuring on This Morning, presenting a slot about animals, something she is extremely passionate about, and is also keen to get her teeth into a new role, a world away from Albert Square – she longs for a part in a period drama. Get Downton Abbey on the phone.
Whatever happens, Pat and those iconic plastic earrings will be sadly missed from EastEnders and Pam will go down in history as one of the legends of not only the London soap, but British TV.