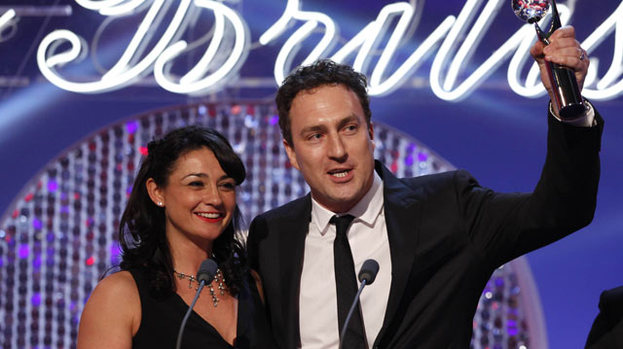 It must be a fantastic moment for the cast and crew of a TV show to see their hard work and dedication to a particular storyline rewarded with an award.

Tonight, it was Emmerdale's turn to bask in glory as John and Moira's car accident was named Spectacular Scene of the Year.

James Thornton and Natalie J. Robb accepted the award from Jermain Defore and Scots rugby star Thom Evans and thanked the writers for providing them with such a fantastic storyline.

James joked: "I'd just like to say a big than you to Andy for letting us use his Land Rover."
The Emmerdale director praised the actors, saying: "They genuinely moved people through their performances and that's a pleasure to be around."

The dramatic plot saw estranged couple John and Moira rekindle their love for each other and set off for a night at a hotel.

In true soap style, the course of true love never runs smoothly and the couple's car hit an ice patch and skidded off the road.

The cast and crew put their heart and soul into the dramatic performance and Scottish actress Natalie revealed that parts of the Land Rover crash were filmed inside a mechanism to simulate the effect, leaving her injured in the process.

She told the Daily Record: "It went too slow for me.

"I wanted it to go faster. I love the waltzer. James wasn't so keen on it though.

"When you let the harness go it starts to crush you a little bit and felt claustrophobic.

"After the first night I had bruises on my rib cage, so they added padding."

She added: "It was spooky to shoot because it was on the moors, dark and the weather was terrible. It gave a really uneasy sense of reality to the whole thing." It was clearly worth it.
ON YOUR SOAP BOX