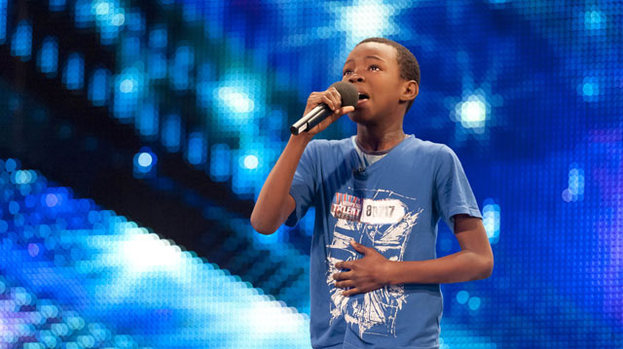 Perhaps the biggest star of tonight's Britain's Got Talent auditions, 9 year old Malaki Paul from North London stole the show with his stunning performance.
The shy schoolboy told the show: "I have been singing for about 3 years and I really enjoy it." He listed Alicia Keys, Beyonce and Michael Jackson as his inspirations. Adding that he normally practices while he's on the computer!
Proving he is the sweetest thing since maple syrup, he told the show: "If I won £500,000 I'd probably give my family £200 each and still go to school. I'd probably have a good birthday." Bless!
Taking to the stage the little lad unleashed a beautiful voice when he performed Beyonce's Listen but was so overwhelmed he had to stop his audition, bursting into tears mid-line.
Luckily mum was at hand to help and after singer Alesha Dixon took to the stage, Malaki continued his performance much to the delight of the audience. The new-found king of cute continued with his audition and was rewarded with a standing ovation.
But did Malaki's wobble cost him a place in the next round of Britain's Got Talent?
Alesha told the young singer: "Malaki, it's very, very simple: you are a star. It's a natural raw talent, that's what we are looking for. That was amazing sweetheart."
David (and the rest of the country) agreed, saying: "I thought that was a really special audition, I agree with Alesha, you're a total star."
Even Simon was won over telling Malaki: "I've got to tell you, what I like about you; you're brave, you know, you got off to a bad start but you picked yourself up and people are going to like you a lot."
New mum Amanda gave him the final seal of approval, calling his audition "Absolutely brilliant."
After coming off stage the schoolboy told Ant and Dec he felt proud of his audition and getting a standing ovation. Aw bless!
With four yeses from the judging panel and whole lot more from everyone at home, magical Malaki was put through to the next round. We can't wait to see him perform again.
Have you spotted your favourite Britain's Got Talent act yet? Leave us a comment and let us know your thoughts.
BRILLIANT BRITS