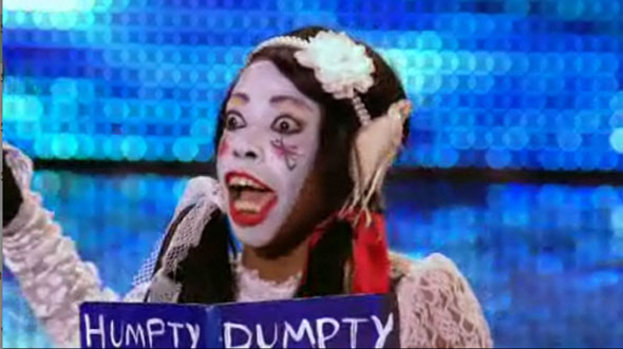 We've seen a lot of things on Britain's Got Talent, but Geisha's performance art audition has to have been one of the more leftfield items on the show.
Geisha Davis, 28, from London is a performance artist and thinks she has the unique talent that Simon Cowell and his panel members are looking for.
She told the show: "I am an artist. Geisha means artist of all arts. It's my full time life."She added: "Simon said he wanted to see something unique, Geisha is unique." She certainly is right about that!
Taking to the stage in white bandages and ghostly make up with blood red lips, she took the judges by surprise.
When asked why she should win she told Simon: "What I have to give is a message...to the people." When he asked "and what's the message?" she mysteriously said: "You'll find out."
After failing to charm the judges or audience with her converstional skills the mysterious performer gave a sureal performance of the children's nursery rhyme Humpty Dumpty which ended with her lying, apparently dead, on the stage.
Despite the booing of the audience, Simon seemed impressed. The audience was shocked, but only judges Alesha Dixon and David Walliams buzzed their buzzers.
Dancer and singer Alesha told Geisha: "I was absolutely petrified. You are like a walking ghost, I thought you were going to come out and strangle me or something! It was not good." Before giving Geisha a very strong no vote to the cheers of the audience.
However it seemed that Geisha had worked some strange magic on Alesha's fellow judges as despite buzzing his buzzer comedian David Walliams said: "I wouldn't say I like it, but I would like to see what you are going to do next." Before giving the bewitching artist a yes vote.
Guest judge Carmen Electra looked bewildered, shook her head then also said yes! Strange things indeed were happening on Britain's Got Talent!
Finally, and most surprisingly, Simon told Geisha: "Well you're so out there, and I don't know why Geisha but I actually really like you." Has he lost the plot?!
So despite the audience booing Geisha has charmed her way through to the next round. As she walked off stage Simon wondered: " I think we were possessed!" and the after effect of her audition stayed with him for the rest of the day. He even joked that he needed an exorcism!
What do you think? Was Geisha talented? Leave us a comment and let us know your thoughts.
A LITTLE BRIT SPOOKY