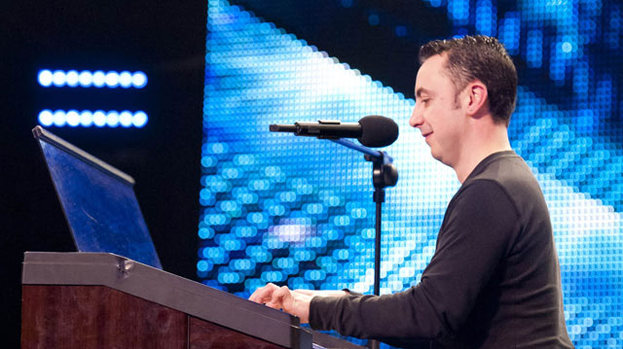 Thousands of hopefuls up and down the country journey to the Britain's Got Talent auditions in the hope of impressing one man: Simon Cowell.
We all know that while the other judges are just as fabulous, Mr Cowell is something of a tough nut to crack, and for 42 year old Graham Blackledge, the music mogul proved to be a particularly tough customer!
Graham, a music shop worker from Preston, describes himself as an entertainer and organ player, but did he have enough talent to impress the panel?
After chatting with the judges he started playing a classical piece, which didn't seem to go down with the audience as well as his pre-audition chat, but the poor pianist was then interrupted by Simon because he didn't like his smile!
However before Graham could fully channelling his inner Elton John, Simon stopped the performance saying: "That was horrific. I'll tell you why, you were smiling in a weird way the whole way through. Can I hear you singing and playing the organ together without the weird smiling?"
Starting again he segwayed into a lively, if unexpected, rendition of La Bamba that soon had the audience on their feet and dancing along.
Strictly Come Dancing star Alesha Dixon was more forgiving than Simon saying: "I think I enjoyed more listening to you talk than I did listening to you play, if I'm being honest… I quite enjoyed it in some weird way."
Simon remained unconvinced, despite the audience's reaction calling Graham's performance: "Hideous. It's like eating vanilla ice cream with a sausage. They don't go together." No we don't know what he means either!
Graham wasn't deterred though asking him, "have you ever tried vanilla ice cream with sausage?"
Coming in with some more constructive criticism, comedian David Walliams suggested: "Have you ever thought of just doing stand-up comedy?!" He told Graham: "You are a very funny man…I'd love to see you again. Yes!"
So with two yes votes a bamboozled Graham is through to the next round. What do you think? Was Simon right? Leave us a comment and let us know your thoughts.
A BRIT OF ALRIGHT