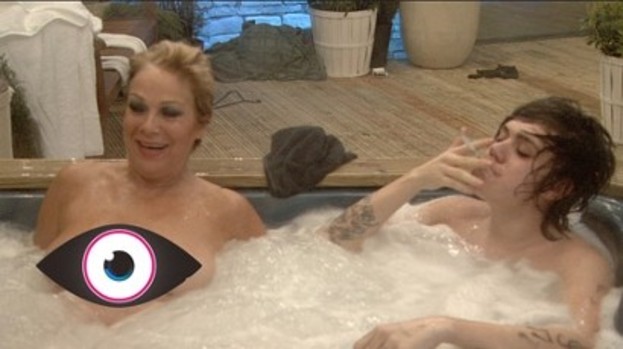 Celebrity Big Brother star Denise Welch has revealed she isn't embarrassed about the fact she flashed her breasts to the nation on the fly-on-the-wall show.

After going topless in the hot tub in the CBB house, Denise told Nicola McLean: "I really hope my kids don't see that. It was only a bit of fun. I wanted to give Frankie [Cocozza] a treat on his birthday." Earlier in the week the Loose Women panellist also told the show that getting her boobs out while in the hot tub "wasn't my best moment".

But in an interview with new! magazine, Denise revealed that in actual fact she doesn't "regret it at all" – and even joked that she'll still be flashing her ample chest when she's a pensioner.

"I don't regret it at all," she said. "I've always got my boobs out. I have compulsive flashing disorder. I need to open a support group. We can't help it!

"All I wanted was for my kids not to be embarrassed about other things. They know I get my boobs out."

Denise then went on to say that she plans go under the knife to maintain her assets. She continued: "I will get a boob job thought, simply because I owe it to the public that they're not round my knees."

The star - who also said she'll still flash when 70 or 80 - added: "I don't want an increase in size. I just don't want to be playing keepy-uppy with them on my knees."

Denise was celebrating on Friday night last week after finding out that she had won CBB. But just days later the TV presenter's joy turned to shock when a friend of Lincoln Townley allegedly told a Sunday newspaper that he had had an affair with her.

The Sun also reported that gay theatre producer Tom Hopkins claimed to have had a "romp" with the actress, who is married to Benidorm star Tim Healy.

A spokesman for Denise said of Tom's claims: "We believe these allegations to be false."

Friends of Denise's soon rallied round her, making light of the allegations on social networking site Twitter.

FLASH IN THE PAN?