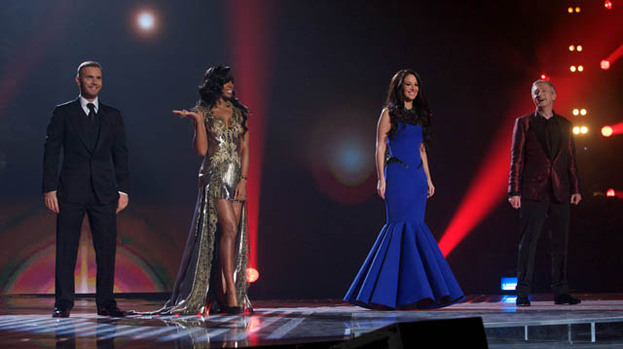 The X Factor Final was always going to be a class act and tonight the judges kicked off the second part of it in style, appearing on stage in truly eye-catching outfits.

The girls both looked stunning, with Kelly wearing a gold mini dress with a full length skirt at the back, showing off those legs of hers that seem to go on forever.

Tulisa meanwhile opted for a dazzling blue fishtail gown that emphasises her killer curves, and injected some true old style glamour to the show.

The boys didn't let the side down, with Gary Barlow looking sharp in a black tailored suit.

Louis Walsh also looked dashing in a red smoking jacket and suit trousers. Hugh Hefner eat your heart out!

Tonight Little Mix and Marcus Collins will go head-to-head in the battle to be named The X Factor 2011 champion.

The two finalists will sing three songs tonight, including their version of the winners' single.

Coldplay and Westlife will also take to the stage to sing – with Westlife giving a farewell performance as they bow out of the limelight to focus on other projects. It's set to be a brilliant show!

X-CITING STUFF!