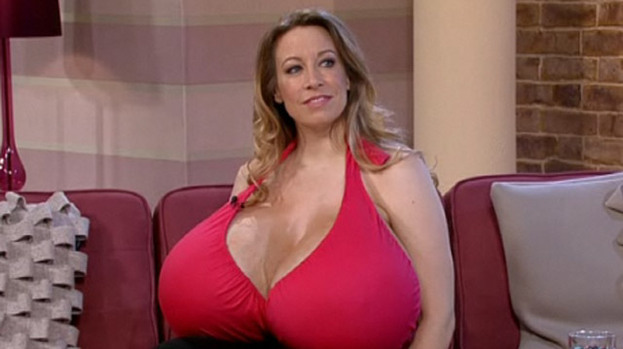 In high school Chelsea Charms of Minneapolis in the US used to cover up her D-cup breasts, but now that she's 35 she's far more upfront about them. Her staggering 164XXX size breasts stole the show on ITV's This Morning this Thursday, with 2,300 comments made on the show's Facebook wall before she had even appeared.
Although she's not officially the world record holder, Chelsea, who is only 5ft 3 tall, is an obvious contender with both breasts continuing to grow at a rate of one inch a month. All this thanks to a controversial and now banned operation in which a polypropylene string is implanted into each breast.
This coiled wire irritates the breast pocket, creating fluid, and nobody knows when this process is going to stop.
She explained to shocked presenters Ruth Langsford and Phillip Schofield: "Most of the other girls who have had this procedure have stopped at some point so I'm just waiting for that to happen."
In the meantime both breasts are continuing to expand at a rate of one inch a month. When asked if they could grow at different rates from each other, Chelsea said: "I've been lucky, they've been working as a team."
Although "Itsy and Bitsy", as she calls them, have made her a comfortable living as an exotic dancer, day to day they can be more of a challenge. Eating is difficult because she can't get near her food, fitting into airplane toilets is a challenge, and she had to learn how to sleep on her back.
She also has to perform regular back exercises to be able to support the breasts, which each weigh about the same as two large watermelons.
When a concerned Ruth Langsford asked her about what happened to her nipples, she said they had stretched out and become larger but hadn't wandered off to a strange part of the boob.
For Schofe however there was a more pressing problem. Is it possible for guys who she dates to move beyond the boob?
"Obviously there are guys who are really into it and obviously it's not for everyone. I think if you get to a point when it's getting serious then definitely [it's difficult]. A lot of my friends will say they forget that I have them until something happens."
Current Guinness World Record holder Maxi Mounds, a nude model from the US, had the category created for her when she approached Guinness. Yet at 42J she would certainly face some competition from Chelsea, who says that eventually she'll have them reduced.
In the meantime however they're continuing to shock the world, with her name trending on Twitter in the UK within an hour of the show.
Watch the full This Morning interview on the STV Player, in part seven of the show.