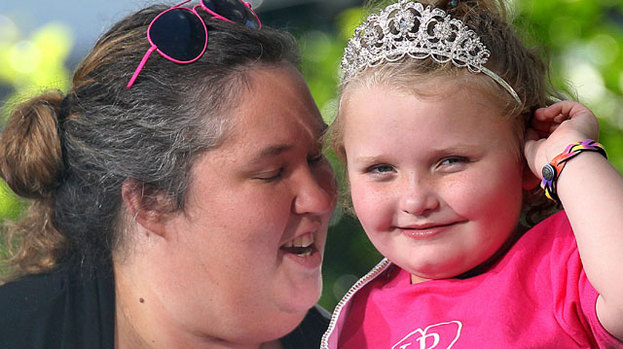 British viewers are about to find out exactly why pageant darling Honey Boo Boo and her wacky family The Thompsons have become such major TV stars in the USA, with the premiere of Here Comes Honey Boo Boo kicking off in the UK tonight.
The seven-year-old first caught the attention of TV producers on Toddlers and Tiaras, a documentary-style programme that follows young girls and their families as they travel the US in the hope of pageant success.
And Honey Boo Boo – whose real name is Alana Thompson – and her wacky, loud-mouthed family made such an impression they've now landed their own TV show.
Here comes Honey Boo Boo begins tonight on new channel TLC, and shows the Thompson gang – Honey Boo Boo, mother Mama June, dad Sugar Bear, and sisters 12-year-old Lauryn 'Pumpkin', 15-year-old Jessica 'Chubbs', and 17-year-old Anna 'Chickadee' – as they go about their normal lives.
Well, we say normal lives; for the Thompsons, this includes a visit to the annual Summer Redneck Games, where activities including bobbing for pigs' trotters and jumping around in mud baths.
Tonight's episode will show the family as they attend the event, with other treats lined up in future programmes including welcoming the latest addition to the family – a teacup pig Alana names Glitzy – etiquette lessons to help the youngster improve her chance of success at the beauty pageants she enters, and a visit to the annual Christmas in July celebration.
In a recent interview, Mama June insisted that Honey Boo Boo is just like any other normal seven-year-old child – and tonight we'll get the chance to see if that's true!
Here Comes Honey Boo Boo starts on TLC tonight (May 14) at 9pm.
Related articles
People who read this story also read