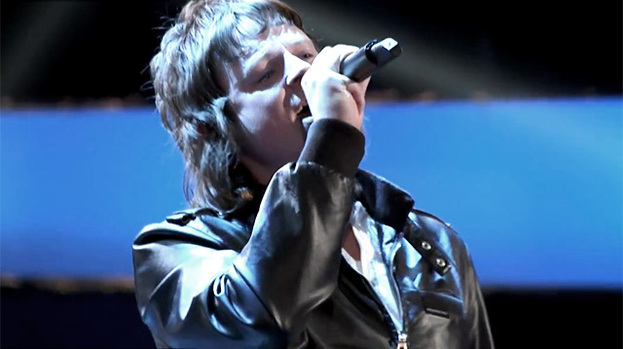 Terry McDermott from Pitmeddon, Aberdeenshire, has advanced to the finals of The Voice USA.
The singer performed The Beatles' Let It Be at the semi-final stage of the competition after securing approval from Sir Paul McCartney.
Speaking to US gossip site Celebuzz, Terry said: "We actually settled on a different song and somebody mentioned [Let It Be] and I was like: 'That's the one we want'.
"Everybody was universally in agreement but said there's no way it will be on the show… it will never be cleared. It takes personal approval from Paul McCartney to clear it and he did."
Coach Blake Shelton called his performance "musical perfection" on Monday night, before he was announced as a finalist on Tuesday.
Terry moved to the US in 2003 with his former band Driveblind, but remains an ardent fan of Aberdeen FC. He now lives in New Orleans, Louisiana, with his wife and son. This week he was visited by his aunt and uncle from Scotland, who joined him at his home ahead of the semi-final.
And, after securing a spot at the final, he has appealed to fans in both the US and Scotland to support him.
He wrote on Twitter:
Incredible. Just incredible. Thank you all. Now we enter the home stretch. I'll need my supporters in the US AND Scotland for this one...

— Terry McDermott (@TerryMacMusic) December 12, 2012
Along with Cassadee Pope, Terry is one of two acts being mentored by Blake Shelton in the final. Cee Lo Green's act Nicholas David will also compete.
The winner will be announced next Tuesday.
See him perform The Beatles' Let It Be here:
Related articles