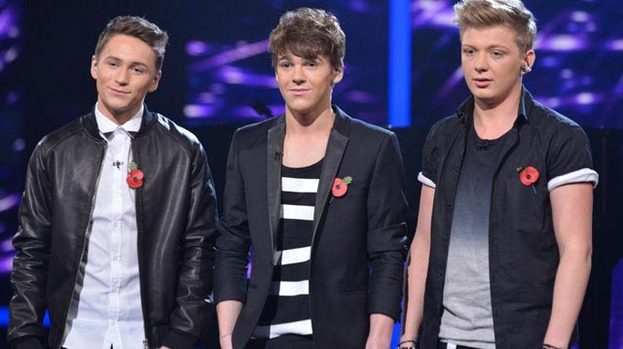 Last night's X Factor brought yet more drama as the competition was reduced to a battle of the boy bands, when Union J and District3 found themselves in the bottom two…
The night started off with a bang with the seven remaining acts delivering a rousing rendition of U2's Beautiful Day.
Then, current X Factor champs, Little Mix, returned to the stage in all their gold and black spandex glory to show just why they deserved to be crowned the 2011 winners.
The girls' performance of new single DNA received a standing ovation from the judges, with former mentor Tulisa bursting with pride for her "Little Muffins".
Ed Sheeran was next to perform in this celebration of the 'best of British'. His heartfelt rendition of new track Give Me Love saw Twitter go into overdive as fans and celebs rushed to compliment the flame-haired singer's Xtra special performance.
Mr Twitter himself, Philip Schofield, was impressed, Tweeting: "Wow! @edsheeran incredible!" Praise indeed!
Then, it was time to get down to the serious matter of deciding who was next to be aXed from the competition.
Rylan Clark was his usual understated, ahem, self when he was put through, and there was joy for Nicole Scherzinger as all three of her lads were saved.
Tulisa was delighted when her Girl Ella Henderson's name was announced in the safe category, leaving Gary Barlow's Over, Christopher Maloney, and Louis Walsh's two remaining Groups, Union J and District3, waiting to find out who was the final act through.
When Christopher's name was announced, the emotional singer looked completely shocked.
Not as shocked as Louis Walsh, who knew he faced the prospect of having to send one of his boy bands home.
First up, District3 sang for survival with a rendition of Bruno Mars' Just the Way You Are.
Then it was Union J's chance to shine, as they launched into a performance of Adele's Set Fire to the Rain.
When Dermot asked Louis who he was sending home, the Irish judge refused to vote, saying: "I'm not voting. I can't judge between them. No, I'm not sending any of them home."
The decision therefore rested with Gary Barlow, Tulisa Contostavlos and Nicole Scherzinger.
Gary said: "When I saw both these acts I thought it as going to be easy, as District3 have always sung well, but the shame is tonight that was one of your worst performances." As a result, Gary chose to save Union J.
Nicole was up next and she said: "The group that I think is a more mature group and a little bit more ready for this is Union J."
With two votes and Louis giving up his chance to say who he wanted to save, it meant Tulisa's vote was irrelevant – District3 were going home.
But she still had her say and admitted she would have voted District3 as she feels she had a deep connection with the lads.
Clearly devastated to be out of the competition, the group admitted it was the most "gutting feeling in the world." They added: "We just want to say a massive thank you to everyone. Everyone who made this a great experience."
As the competition hots up, the remaining acts are Ella Henderson, Union J, Christopher Maloney, James Arthur, Jahmene Douglas and Rylan Clark. Who will be next to follow in District3's footsteps? We'll find out when X Factor returns next week. How eXciting…
More About District3
Related articles
People who read this story also read