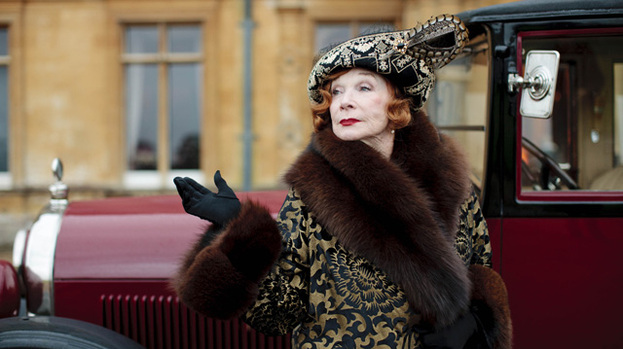 The relative quiet and calm at Downton Abbey is about to become a thing of the past when the Countess of Grantham's mother, Martha Levinson, joins the aristocratic family and their servants in series three of the drama.
Making her arrival well and truly known in the brand new season of the hit period show, Cora's mother Martha, played by Oscar winner Shirley MacLaine, is clearly no shrinking violet – and the feisty character is set to shake things up at Downton.
A strong, independent woman, it's not hard to see how Martha could clash with the equally feisty Dowager Countess of Grantham, played by Maggie Smith.
"She is extremely outspoken," Shirley says of her character.
"Martha's basic role in these episodes is to plead with the Dowager Countess to wrest herself, if possible, away from tradition. Because that's what caused the war in the first place. And to become more flexible in relating to change."
Shirley added: "Martha is not just a crass, cranky American coming in there to call a spade a spade. She's very smart and to a large extent sensitive as to what's going on with all her daughter's children.
"And Maggie's character is so well established but you have to look beyond what is her expected reaction to Martha. The Dowager Countess is a human being who has complications and a past of some pain that Martha understands - and to some extent addresses herself to."
In reality, the two film and TV legends get on like a house on fire, with Shirley telling E! Online earlier this year: "I love Maggie, I've known her for 40 years [and] we did many scenes together."
Shirley also revealed that on her first day of filming on Downton she got so excited at seeing Maggie she literally swept the star off her feet.
Speaking at an awards ceremony earlier this summer, she said: "I saw Maggie Smith and I lifted her off her feet, because she's lighter than me. It was fabulous."
The third series of the hit show will see the two women forced to deal with each other, as Martha comes to stay at Downton. Other key storylines this series include the marriage between Lady Mary and Matthew Crawley, following their on-off romance, and the family being forced to cope with the devastating repercussions of a disastrous financial decision made by Lord Grantham.
The highly anticipated third series of Downton Abbey kicks off on STV this Sunday (September 16) at 9pm.
More About Downton Abbey
Related articles