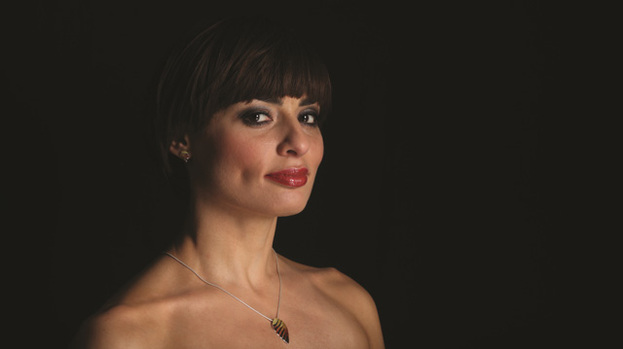 Flavia Cacace has been snapped up as the new face of Scottish jewellery Brand Ortak.
The Strictly Come Dancing professional will represent the brand throughout the rest of 2012 and 2013.
The Italian beauty follows a long list of TV stars who have been the face of the jewellery firm, including Scottish TV presenter Carol Smillie and her daughter Christie, Myleene Klass, Sarah Parish, Suzanne Shaw, Corrie actress Kate Ford and Amanda Lamb.
The sultry star travelled to Edinburgh to take part in the shoot for the jeweller's new season range, with photographer Gerardo Jaconelli and stylist Janis Sue Smith creating the sexy images.
"Jewellery is a real passion of mine and I am very excited to be the new Face of Ortak," Flavia said.
"It was fascinating to learn about the level of craftsmanship that goes into each Ortak piece and it was great to get the first look at the new collection for Autumn. It's hard to choose just one piece but I think the Flare collection would have to be my favourite, the rich coloured enamel shades are perfect for autumn."
Yvonne Carr, retail director of Ortak, added: "We were delighted when Flavia agreed to come on-board as the Face of Ortak for 2012/2013.
"We had a great time at the photo shoot in Edinburgh – Flavia is a natural in front of the camera and the results are stunning. We kept the concept very simple focusing on the energy and movement of dance – Flavia is a natural beauty and that really shines through in the pictures.
The new range of jewellery, designed by Ortak's creative team led by Clare T Goodall, has introduced three key themes for the new collection - Scandinavian Spirit, Arctic Expression and Parisian Romance. The range boasts a diverse collection of geometric shapes, with shades ranging from the bold colours of Scandinavian spirit and icy blue hues of Arctic Expression to the whimsical designs of Parisian Romance.
Related articles