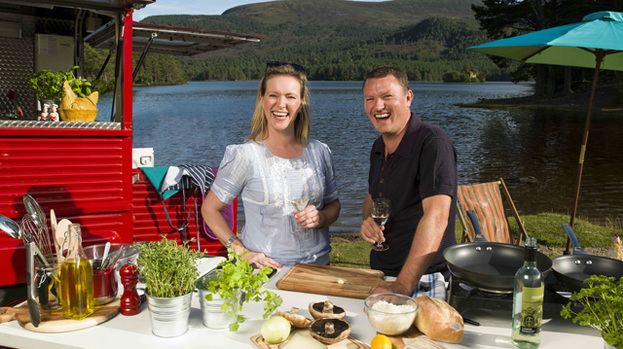 STV Productions and BBC2 have cooked up an exciting new show which will see celebrity chefs tackle contests and challenges across the country.
The brand new 20-part series will see eight of the country's best loved chefs competing in some of the most demanding cookery contests.
Travelling in pairs, they will make their way across the UK in a vintage van, complete with its own kitchen.
In each of the episodes, the chefs will visit a different town or village in Britain and stop by either its traditional country show or specialist food festival.
While there, they will enter a cookery competition, either at the country show or food festival, where they will not only compete against each other but also against the best local cooks - who are guaranteed to take the contests very seriously!
The eight celebrity chefs taking part are Aldo Zilli and Silvena Rowe, Rachel Allen and Theo Randall, Jun Tanaka and Galton Blackiston, Valentine Warner and Ed Baines.
The new show is STV Productions' third series commission for BBC2 and follows on from the popular series Antiques Road Trip and Celebrity Antiques Road Trip, which have proved to be ratings winners.
The development, including a programme pilot, is co-funded by STV Productions, BBC and Creative Scotland. In 2011, Creative Scotland announced a development partnership with STV Productions for programmes developed in Scotland.
Wendy Rattray, creative director for STV Productions, said: "We are delighted to have secured another commission for BBC2. It should be a really fun, informative show with great recipes, fantastic locations and lots of jeopardy for the chefs who are going up against the country's best local cooks. If they think this is going to be easy they are in for a big surprise."
Liam Keelan, Controller of Daytime, BBC, added: "Never before have celeb chefs been up against it like this. Not only are they competing against each other but they're also battling the might of the local WI and other assorted regional food producers. It should make for compelling viewing."
And Caroline Parkinson, Director of Creative Development, Creative Scotland, said: "This new cookery show is an original take on the road trip theme and, in a returning slot on BBC Two, is a great boost for the Scottish production team. Attracting high-profile network commissions like this showcases Scotland's production strengths."
Related articles