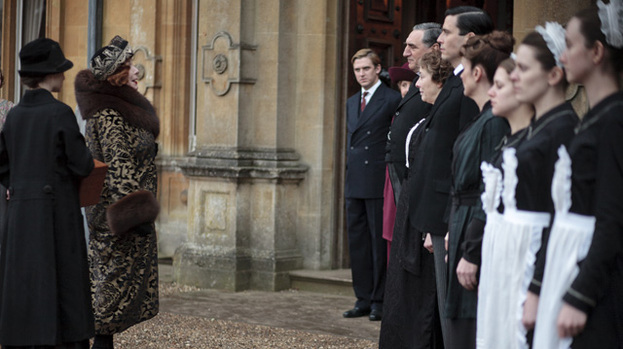 Downton Abbey has truly taken the world by storm – recently being nominated for a mammoth 16 Emmy Awards - so it's no surprise to hear that the actors' families have found themselves caught up in the show, as well as the general public.
Jim Carter, who plays the uptight butler Carson in the hit period drama, revealed that his family love sitting down together to catch the latest goings-on between the aristocratic Crawley family and their servants.
With a teenage daughter in the family, Jim admits it's hard to find something on TV that everyone loves to watch together – but Downton has hit really hit the spot.
"My wife is a big fan of the show. We love to sit down as a family - wife, daughter and dad - on a Sunday night and watch it together. I think that's nice because an 18-year-old's not going to let you watch many programmes with her," he said.
"So we sit down together and wind down the week with Downton Abbey. It's lovely."
But while Jim's family love the show, he admits he doesn't give anything away about upcoming storylines, so he doesn't ruin the surprise.
Lesley Nicol, who plays cook Mrs Patmore in the drama, admitted she has no choice when it comes to protecting the upcoming dramas on the show though – because her husband actually steals her scripts to see what's coming up.
"My husband's a shocker, because he sneaks off and reads it which he knows he's not allowed to do. He knows he can't say anything, but he can't resist saying 'I know what happens but I can't say anything' which just irritates people.
"But he knows if he opened his mouth I'd have to kill him."
Downton Abbey returns to TV screens this September, picking up in the early 1920s and continuing the drama that surrounded Bates following his murder conviction.
Viewers will also see what happened after Matthew and Mary became engaged at the end of the last series. We all know the course of true love never runs smoothly of course...
New character Martha Levinson (Shirley MacLaine) joins the cast as Lady Grantham's mother and immediately locks horns with Maggie Smith's character Dowager Countess of Grantham.
And head of the household Lord Grantham has to deal with the repercussions of a disastrous financial deal.
The third series of Downton Abbey will be shown on STV and ITV next month.
More About Downton Abbey
Related articles