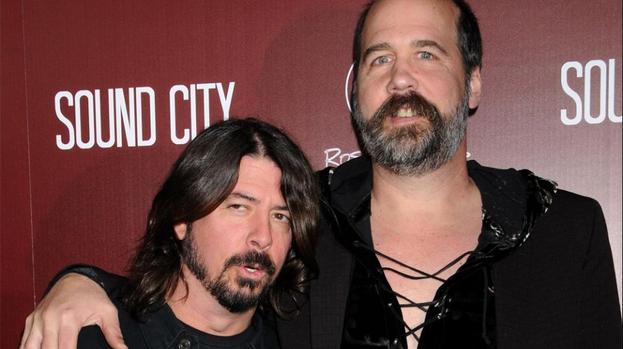 Dave Grohl was joined by Rick Springfield, Rick Nielsen and Lee Ving for his Sound City Players gig last night (19.02.13).
The rocker's supergroup - which also comprised other members of Foo Fighters, including Taylor Hawkins, Pat Smear, singer and producer Chris Goss, Queens Of The Stone Age's Alain Johannes and Nirvana bassist Krist Novoselic - were joined for the ''marathon'' gig at London's Kentish Town Forum by the 80s icon, Cheap Trick guitarist and Fear frontman, who was performing in the UK for the first time.
Each musical guest played songs from their back catalogue, as well as some original tracks that were recorded during the making of Dave's Sound City Studios documentary, with the 'Everlong' singer only taking lead vocals on final track 'Surrender'.
At one stage, Dave - who reprised his Nirvana role as drummer for much of the set - joked about the relatively intimate size of the venue.
He said: ''In the Foo Fighters, we're used to playing stadiums. Now we're reduced to this.''
Famous faces in the crowd included Steve Strange and actor Simon Pegg.
Sound City Players' set:
With Alain Johannes:
'A Trick With No Sleeve'
'Why'
'All My Friends'
'Hangin' Tree'
'Reach Out'
With Chris Goss:
'She Got Me'
'It's S**t'
'Domino'
'Time Slowing Down'
'The Blue Garden'
With Lee Ving, Pat Smear:
'Your Wife Is Calling'
'I Love Livin' in the City'
'Gimme Some Action'
'Beef Bologna'
'I Don't Care About You'
'Foreign Policy'
With Rick Springfield and Pat Smear:
'The Man That Never Was'
'I've Done Everything for You'
'Love Is Alright Tonite'
'Love Somebody'
'Jessie's Girl'
Rick Nielsen, Krist Novoselic, Pat Smear:
'Hello There'
'Stiff Competition'
'I Want You to Want Me'
'Ain't That a Shame'
'Surrender'
Copyright © bangshowbiz.com 2012.