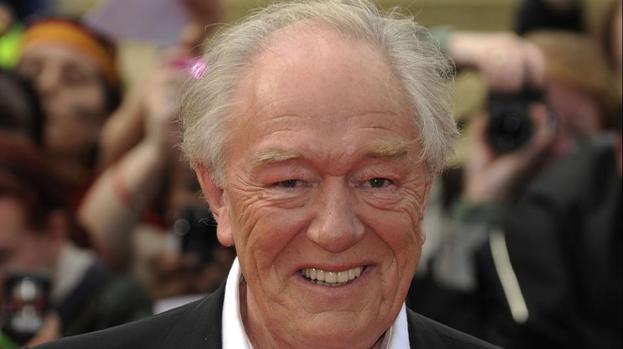 Sir Michael Gambon thinks acting is a terrible career.
The 72-year-old star - who was granted the Richard Harris Award for outstanding contribution by an actor to British film at the BIFA Awards yesterday (09.12.12) - has urged young people to reconsider pursuing a film career because it's too stressful and isn't financially secure enough.
Speaking at the Moet British Independent Film Awards in London's Old Billingsgate, Michael told BANG Showbiz: '''Don't', that's what I'd say to the young people. Unless there's some machine inside of you, unless you're driven by some enormous desire, don't do it, don't be an actor. It's too dodgy, and the money is not really good''.
The acting legend's 50-year career was honoured at the 15th annual awards ceremony, which celebrates films made outside major studios, and Michael admitted that despite experiencing such longevity in the industry, the only time he actually had fun and relaxed on set was while shooting magical family favourite 'Harry Potter'.
He laughed: ''[When I was watching all those clips of me] I thought it was amazing, all the things I've done. Today I've been an actor for 50 years and I can't believe that. It seems like time just flies.
''I've spent my whole life worried doing television and films; always concerned and never relaxed, apart from 'Harry Potter', where I just had fun''.
Jude Law, Olivia Coleman and Elle Fanning joined Michael on the red carpet at the glittering awards, which saw gritty drama 'Broken' crowned Best British Independent Film and psychological thriller 'Berberian Sound Studio' pick up the most awards. The latter received four trophies, including Best Director for Peter Strickland and Best Actor for Toby Jones.
List of 2012 BIFA Winners:
Best British Independent Film: Broken
Best Director: Peter Strickland - Berberian Sound Studio
The Douglas Hickox Award (Best Debut Director): Basrt Lyton - The Imposter
Best Screenplay: Alice Lowe, Steve Oram, Amy Jump - Sightseers
Best Actress: Andrea Riseborough - Shadow Dancer
Best Actor: Toby Jones - Berberian Sound Studio
Best Supporting Actress: Olivia Colman - Hyde Park on Hudson
Best Supporting Actor: Rory Kinnear - Broken
Most Promising Newcomer: James Floyd - My brother the Devil
Best Achievement in Production: Berberian Sound Studio
Best Technical Achievevent: Joakim Sundström, Stevie Haywood AMS IPS (Sound Design) - Berberian Sound Studio
Best Documentary: The Imposter
Best British Short: Volume
Best Intenational Independent Film: The Hunt
The Raindance Award: Strings
The Richards Harris Awards: Sir Michael Gambon
The Variety Award: Jude Law
The Special Jury Prize: Sandra Hebron
Copyright © bangshowbiz.com 2012.