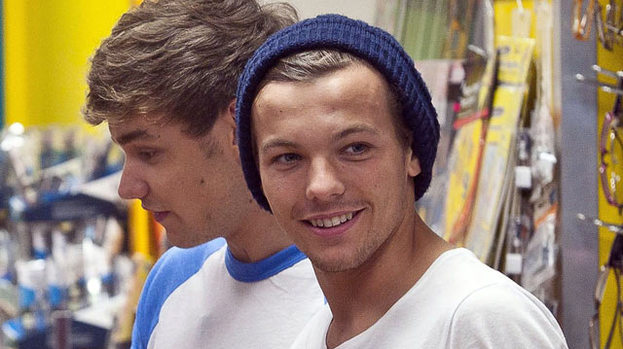 Louis Tomlinson and Liam Payne may be millionaires but the One Direction lads can't help but love a bargain.

So what treasures did they come across during a recent shopping spree at a pound shop?

A Soccer AM DVD, an all-singing / all-dancing remote control, and, erm, a copy of a book on The Wanted.

Much is made of the supposed rivalry between the boybands – a subject both groups have been keen to play down, but a cheeky Louis couldn't help but have a chuckle as he browsed through the discounted book. Poor Max and the lads. Although we're sure we've spotted a 1D annual on the shelves of a similar store…

Hunting for bargains is clearly thirsty work as Louis and Liam then moved on to Starbucks to grab a mocha-choca-latte, or something equally as starry.

Word of the boys outing spread like wild fire amongst the dedicated network of 1D diehards and the heartthrobs were soon surrounded by screaming fans – it's a tough life.

Louis and Liam's shopping spree was also captured by a film crew, who are currently shadowing the boys as they work on their second album.

While Zayn Malik was most likely still in bed at this point (he doesn't do mornings, apparently) and Harry Styles was probably recovering from some uber trendy party, Niall Horan was at home, glued to the Olympics.

The 18-year-old Irish star has been Tweeting constantly about the Games, telling his followers he had got up early to watch the women's hockey.

The boys are hotly tipped to perform at the closing ceremony of the Olympics.
WELL READ
People who read this story also read