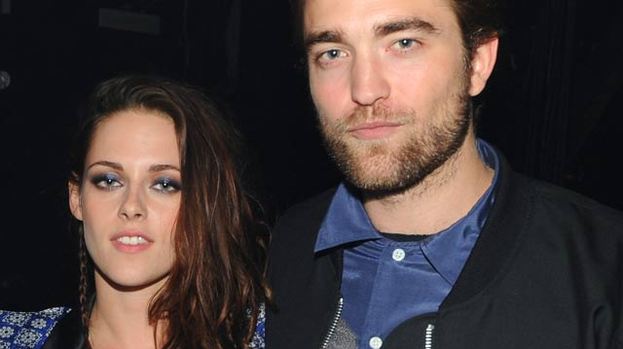 Days after Robert Pattinson and Kristen Stewart were spotted looking happier than ever (in colour coordinated outfits no less) at the Teen Choice Awards, scurrilous gossip from across the pond has suggested that there may be a snake in the grass. Say it ain't so…

US Weekly magazine has the words 'Kristen cheats on Rob' splashed across the front cover. It is alleged that the 22-year-old actress was caught enjoying a more-than-just-good-friends cuddle with her Snow White and the Huntsman director Rupert Sanders.

A source - no names, huh? - apparently told the gossipy rag that Twilight star Kristen and married father of two Rupert were spotted in a steamy clinch and was quoted as saying "they couldn't get enough".

A picture of Kristen being cuddled from behind by a mystery man, alleged to be Sanders, also features.

But don't form a queue outside R-Pattz's door just yet ladies – there are many factors which have led Twihards and general showbiz observers to question the validity of the story, its 'source' and even the origin of the snaps. Damn!

Firstly, some have suggested that the photograph is actually of Rupert and his gorgeous wife, British model Liberty Ross, who also starred in Snow White as Queen Eleanor. Could some photoshop whizz kid have crafted K-Stew's head onto Liberty's body?

Under normal circumstances, we would all love to be superimposed onto a model's body, but if that is what has happened here, we don't think Kristen will be too impressed.

And anyway, if it is indeed Ms Stewart being cuddled from behind, one has to ask, what exactly is 'steamy' about this? Doesn't everyone enjoy a little back snuggle with friends? No? Moving on…

Another possibility is that Kristen was getting in the Olympic spirit and being shown how to master the art of field archery – well, her boyfriend is from the host country after all, it's only right that she gets involved.

Whatever really happened, it's going to do little to soften the Twilight couple's rocky relationship with the press.

The stars are extremely guarded about their romance, going to great lengths to keep their private lives out of the public eye.

Brit heartthrob Robert recently slammed the media for "creating false stories" and making him look like a "d***".

The normally gentlemanly star told BlackBook that a recent rumour about him getting hitched to Twilight co-star Kristen Stewart really got on his wick.

"There was a magazine, with these pictures, saying I was getting married. No-one ever knows what is true or what isn't. Even my own mum called to ask me if it was true," he told the publication.

Rob added: "[In interviews] you try to say things in the perfect way but you know unless you say something stupid, from which people will make you look like a d***, you're not going to have sound bites.

"And if you don't say anything stupid, someone's going to make something up anyways."

We're sure he'll have an extremely interesting view on the latest stories hitting the headlines this week.

But just in case it really is all over with Kris, Rob, we'd like you to know there will always be plenty of shoulders for you to cry on here in the STV office. Just saying.






People who read this story also read