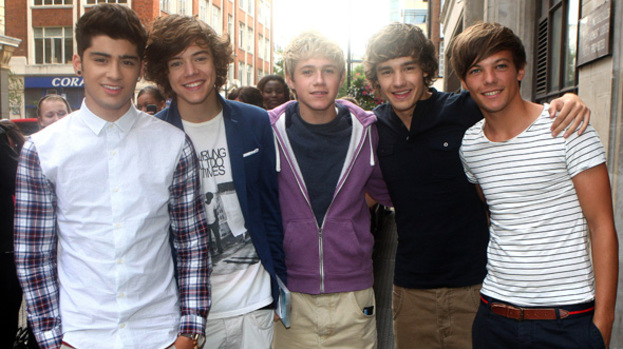 One Direction proved they truly are the biggest boyband in the world right now as they scooped three gongs at the glamorous Teen Choice Awards in California last night.

Sadly, for all-American girls hoping to catch a glimpse of Harry, Zayn, Liam, Louis and Niall, the boys were back in Blighty, wowing the home crowds at Party in the Park, but they did record an extra special message for the night.

Gordon Ramsay (is he a teen idol?) introduced the boys to deafening screams, as Louis Tomlinson's adorable face appeared on a large screen.

The heartthrob said the band couldn't believe they had won three awards – the Choice Summer Music Star Group, Choice Music Breakout Group and Choice Love Song, but insisted they were delighted to have received the gongs.

Teen Choice Awards come in the rather unique form of a surfboard and sending those all the way to the UK had clearly been a problem… so the board arrived in pieces.

The video showed Louis and his team of handymen – Harry, Zayn, Niall and Liam (screaaaaaaaaaaaaaaaaaam) attempt to assemble the board, much to the delight of the crowds.

We're sure you have enough dosh in the bank to splash out on a bespoke board boys?

Other winners on the night included The Hunger Games, which took a massive seven awards.

Taylor Swift scooped five, including the coveted Choice Female Artist. That will surely have made up for the fact she didn't get to see her fav 1Der, Harry Styles, in the flesh.

Justin Bieber took home prizes, including Choice Male Artist, while the Twilight phenomenon continued, as Robert Pattinson, Kristen Stewart and Taylor Lautner accepted gongs including the Ultimate Choice prize.
ONE LOVE
People who read this story also read