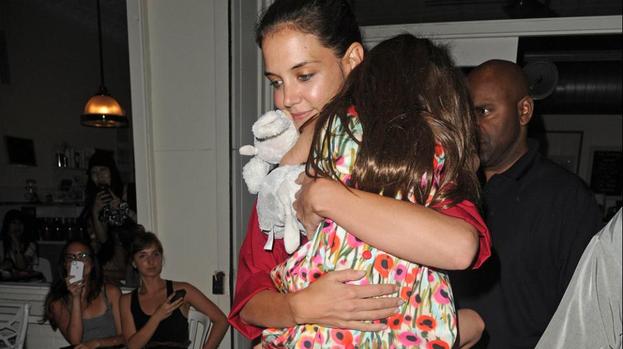 Katie Holmes is ''all right'' as details of her separation from husband Tom Cruise unfold.
The former 'Dawson's Creek' star allegedly spoke out to a reporter while she was doing some grocery shopping.
She told New York's Daily News: ''I'm all right. Thank you.''
The actress was visiting a Whole Foods store yesterday (04.07.12) where she shopped for what looked like barbecue supplies, including hamburger meat, buns, strawberries and bananas.
The 33-year-old actress pushed her daughter with 'Oblivion' star Tom around in a cart.
Her father Martin Holmes was also spotted bringing a custom-made cake along with plates, forks and napkins to the three-bedroom apartment in New York City where his daughter and granddaughter moved as Katie filed for divorce.
When asked how the family was doing, Martin said, ''We're fine, thank you.''
The mother and daughter spent that day getting ice cream in the East Village area.
An eyewitness told website People.com: ''Katie looked happy and was friendly to the customers and staff while Suri sat on her mum's lap.''
Tom, who turned 50 on Tuesday, was supposed to spend his birthday with Katie and Suri but travelled instead to Los Angeles, California and spent it with his adopted teenage children, 17-year-old Connor and 19-year-old Bella.
Copyright © bangshowbiz.com 2012.
People who read this story also read