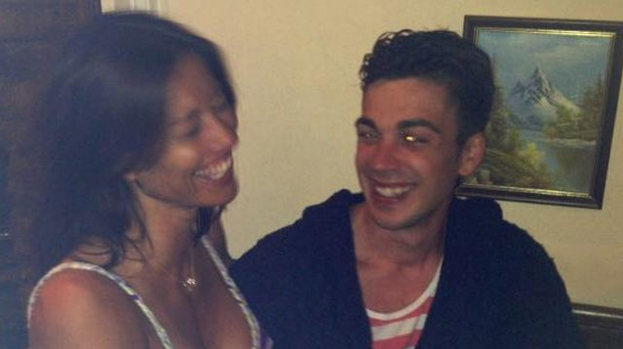 Melanie Sykes has made a career of out of her wholesome family image, with the TV presenter a favourite face on a range of cookery and chat shows.

So fans were left open-mouthed when they came across some of the brunette beauty's graphic messages to new boyfriend Jack Cockings, 26.

In a series of Tweets over the last few days, the pair have flirted outrageously with each other, shattering Mel's good girl image.

In one message Mel, 41, wrote: "Oh and just so you know I have the giddiest knickers of my life today!!! Just warning you, thought it only fare!! Whoop de woodle [sic]."

When Jack asked why, she responded: "Someone is tickling my fancy!! Lol x."

He then replied: "@MsMelanieSykes lmao! Lucky person to be tickling your fancy! Sounds like a right fiddler! Xxx"

Other Tweets from Mel included: "I think you'll find that I and I alone will satisfy all needs! Xxx"

Others are too suggestive to publish.

The star is clearly loved up with her new man, posting a number of cute snaps of and her toy boy smiling happily together – but has raised the question, are we all sharing just a little too much information on social networking sites like Twitter?
Tweet tweet beep beep xxx twitter.com/MsMelanieSykes…

— Melanie Sykes (@MsMelanieSykes) May 29, 2012
She's not the only star guilty of this though. Remember the infamous row between MC Harvey and Cheryl Cole, when the rapper implied their might be some sort of romantic involvement between them? The pair furiously Tweeted each other, with stories about the row raging on for days.

Sinead O'Connor also crossed the line earlier this year when she took to Twitter to constantly update fans on her on-off marriage to drugs therapist Barry Herridge.

In one post she wrote: "Yay. My sweet husband is coming home. Very happy girl. Must get pretty-fied by 8pm. Thank u God. Me love me sweet husband so bad. Yay!!" :)

The star then added: "Sorry if too much info or too personal.. Just.. Me so happy. Wus sad without him. Love him rotten bad. So me all happy now.. Hurray!!!(sic)"

What do you think – do we all give away too much on Twitter? Tell us your thoughts using the comments facility on the site.

TWEET TWEET:
People who read this story also read