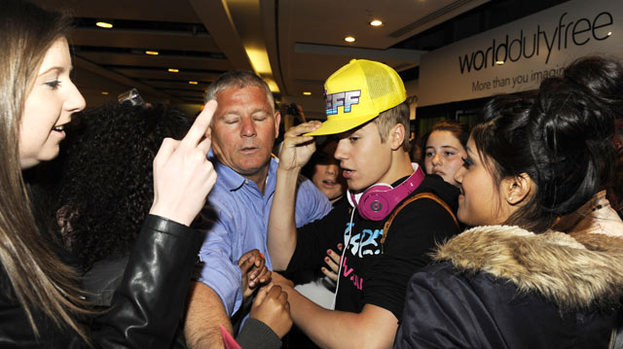 Justin Bieber has put on a stellar performance at a free concert in Norway, just hours after police reportedly threatened to pull the plug on the gig, after excited fans mobbed the star.

Biebs, 18, arrived in the country's capital, Oslo, as part of his European promotional tour, yesterday, when fans spotted the young Canadian singer and rushed after him.

Scenes became so frightening that police were reportedly considering cancelling the concert for safety reasons.

Bieber took to Twitter, urging his fans to listen to the authorities and look after their safety, or run the risk of the concert being shelves, writing: "NORWAY - please listen to the police. I don't want anyone getting hurt. I want everything to go to plan but your safety must come first......

"Here r the details...at 920 2nite I'm going to do a free show 4 u the fans at the Opera House here in Oslo...

"..The show is part of my #AroundTheWorld TV special and I will be doing 6 songs, 4 new, 2 old before i leave. BUT....

...for the show to happen u must all listen to the police. we are all concerned for your safety and i want what is best for u. please listen [sic]."

Fans calmed down and the gig went ahead, and as a huge success in the country. But they clearly didn't give up their chase of Biebs altogether, with the singer putting another post on his Twitter page later that day which said: "Yesterday the fans followed us in a new way", before posting a link to a video showing fans following him on speedboats. How glamorous!
yesterday the fans followed us in a new way - viddy.com/video/0599ea2f…

— Justin Bieber (@justinbieber) May 31, 2012
The concert was filmed as part of Bieber's upcoming Justin Bieber: All Around the World TV special, following him on a seven-country promotional tour.

Biebs is now in Paris, and no doubt delighted fans with a message on his Twitter page which said: "Thanks to all the fans at the airport and at the hotel. amazing welcome. happy to be here and look forward to some surprises. Je t'aime." We love you too, Justin.

I'M A BELIEBER: