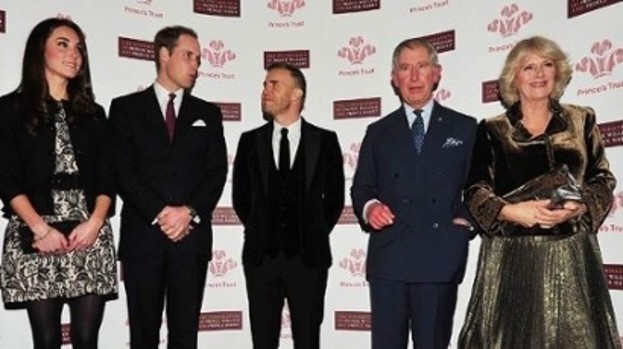 The sun is shining and the nation is gearing up for a summer of celebrations, kicking off with the Queen's Diamond Jubilee bank holiday weekend.

Someone who is extremely excited about the events that are taking place during the first weekend in June is Kate Middleton, or Catherine, as she is officially known.

The Duchess is extremely fond of her grandmother-in-law and has been supporting her throughout her official Jubilee appearances.

But there is one event which stands out as being extra special to the delightful Duchess – the Diamond Jubilee concert.

Kate loves music and is a huge Gary Barlow and Robbie Williams fan, harking back to her childhood when Take That were the ultimate pin-ups.

The group holds a special place in her heart as she and Prince William were spotted singing along to Back for Good when Take That performed in 2007, at a concert in memory of Princess Diana.

Kate was also extremely chuffed to meet Gary Barlow when she attended his charity concert at the Royal Albert Hall in December.

At the time, Gary told Kate and Wills: "I hope you enjoy tonight and I hope it's not too loud."

William replied: "The louder the better, the louder the better."

The music spectacular on June 4 is certainly going to be loud, as Gary has pulled together some of the biggest names in music to celebrate the Queen's 60 year reign – much to Kate and William's delight.

Stars including Shirley Bassey, Alfie Boe, Jools Holland, Jessie J, Robbie Williams, JLS, Elton John, Tom Jones, Lang Lang, Annie Lennox, Madness, Paul McCartney, Cliff Richard and Ed Sheeran are lined-up to perform for the Royal Family.

The concert will be broadcast live on BBC One and BBC Radio 2 and will be attended by 10,000 people, chosen from a random ballot from the millions who applied for free tickets.

Gary said: The Diamond Jubilee concert will celebrate the 60 years of the Queen's reign with an amazing line-up of world-class artists coming together to play at one of the biggest and most exciting live music shows in recent years.

"With Buckingham Palace as a backdrop, it's going to be a fantastic event which transcends multiple decades of music. It'll be a great, unique, experience for the thousands attending, watching on TV and listening on radio. I can't wait."
WHAT A WEEKEND!
More About Queen's Jubilee
People who read this story also read