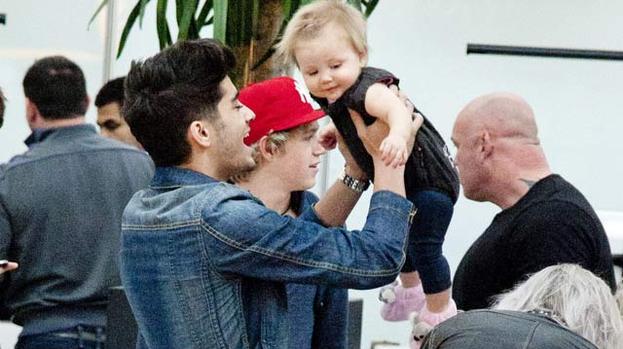 Ladies – prepare to saw awwww. Harry Styles and Zayn Malik have gone all gooey eyed over a beautiful baby girl called Lux.

Yes, the little lady is sure to be the envy of One Direction fans around the globe as she gets to travel with the lads wherever they go.

Her mummy has the envious job of make-up artist for the boys and Harry and Zayn in particular seem mesmerised by the adorable little bundle.

Fresh from kissing goodbye to Little Mix girlfriend Perrie Edwards, Zayn Malik was photographed at the airport lifting little Lux high above his head – much to her delight.

Harry then took to Twitter to post a pic of the adorable little madam, who was cuddling a Sophie the giraffe.

The trendy little lady had on leggings, a Burberry duffle coat and the cutest pink booties we have ever seen, complete with koala faces on the front.

Earlier this year, Harry enjoyed watching Pingu with Lux, as he Tweeted: "@louteasdale Lux is 'buzzing' watching Pingu." So sweet!

Harry loves children and in an interview with Heat magazine last month, his mum, Anne Cox, said her boy will be top of the pops one day.

"I'd love Harry to have a family one day and he'd love one, too. He'd make a fantastic dad," she gushed. Could he be any more perfect. Ahhhhh.