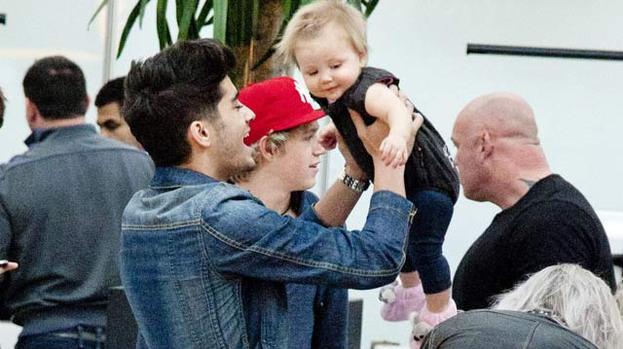 Move over Niall Horan – Zayn Malik could be about to steal your crown as the cutest member of One Direction, if recent photographs are anything to go by.

The 19-year-old heartthrob was spotted sharing an emotional farewell with Little Mix girlfriend Perrie Edwards, taking her for a spin on his scooter before giving her a passionate kiss as he headed for the airport.

They looked every inch the pop perfect pair and it was no doubt difficult for them to say goodbye, as they have been spending every available minute together since Zayn returned from tour with 1D.

But such is the life of an in-demand pop star and he is once again off with Harry Styles, Liam Payne, Niall Horan and Louis Tomlinson to wow the US, where the lads have been going down a storm.

This was one of the first public displays of affection for the talented teens, who have been cautious about sharing their relationship with the world, knowing all too well the abuse girls linked to the band suffer on social networking sites.

And sadly Perrie was no different, having to shut down her Twitter account to avoid hurtful comments and messages from jealous 1D fans. Thankfully, it seems to have made the young couple's relationship stronger.

A source told The Sun: "They hugged, snogged and mucked about on a scooter while they were waiting for Zayn to be picked up. He was giving her lifts along the road.

"You could see they are genuinely really into each other.

"Both were dubious whether they could make it work due to the pressure of their pop star statuses — but they decided they like each other too much not to give it a go.

"So they've spent months getting to know each other to make sure they were on track before they went public."

When Zayn finally reached the airport, another young lady caught his eye. A very young lady…

Zayn was spotted going gaga for a beautiful baby girl, who looked adorable in a black baby grow, leggings and the cutest pink booties with little faces on them.

She giggled and shrieked with delight as Zayn scooped her into his arms and lifted her high above his head. Just as well she doesn't have a Twitter account!
OH BABY BABY!
People who read this story also read