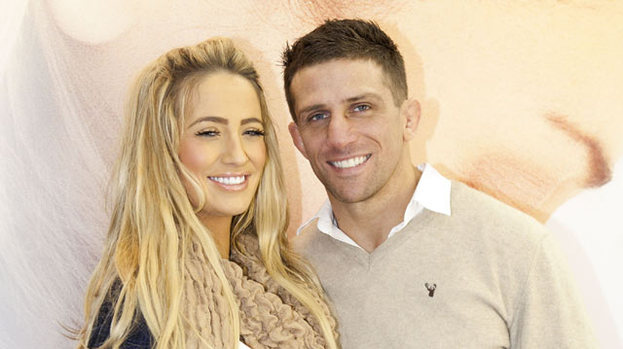 Chantelle Houghton has admitted that her relationship with fiancé Alex Reid is under pressure and has even revealed that their wedding "won't be happening this year or maybe even the year after that."

The former Celebrity Big Brother star, who is eight months pregnant with Alex's child, also admitted that she feels a "nervous wreck" while he is away on the WildBoyz tour, leaving her alone in their rented Brentwood home.

Speaking to OK! magazine in a revealing interview about their life together, Chantelle said things have become strained in recent times.

"The last few weeks have been crazy. We've moved into our new house. Alex is away which has made it even more crazy and stressful not having a man's pair of hands around. I'm really pregnant, I'm knackered, I'm bloated, my feet are swollen, my ankles can't be seen – I'm an elephant," the star said.

Chantelle, who admitted she is "terrified" staying in the house alone, then added: "[I'm scared of] every creak. Every shadow on the walls. It's like Fort Knox. There are panic buttons in every room of the house. I've got a button and every shutter goes down on the house when I press it.

"I don't know why I'm so scared. I am frightened out of my life about everything. I am scared of my own shadow. Maybe it's my hormones. I think someone's going to come and get me. I'm a nervous wreck."

The star even admitted she has taken to "staying in the little room right at the back of the house where no one can get me and I can climb in the cupboard and hide".

Chantelle is currently living alone while Alex tours with WildBoyz, an adult show described on the official website as "The Full Monty meets Ibiza".

When asked about the state of their relationship, following persistent rumours that the couple are on the rocks, Chantelle admitted: "We haven't got a perfect relationship, we have arguments. It's a stressful time and what is making us argue is all these stories, this bull**** keeps coming out in the newspapers."

She then revealed that wedding plans are "so far off my radar" before adding: "The wedding won't be happening next year or maybe even the year after that. I don't know. It's not off. We have much more important things to deal with."

However Chantelle insists the pair will still wed in the future at some point, telling new! magazine: "The wedding is not off and I don't know which friend or associate has been saying these things."

TROUBLE IN PARADISE?
People who read this story also read