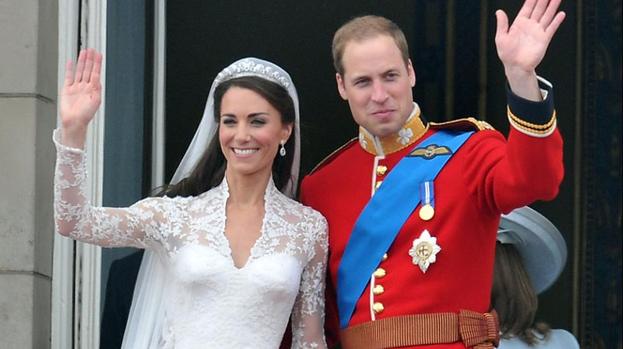 Prince William and Duchess Catherine's balcony kiss has been named the most uplifting TV moment of the decade.
The couple - who wed at London's Westminster Abbey in April 2011 - beat Alfie coming back to Kat on 'EastEnders' and Susan Boyle's 'Britain's Got Talent' audition in 2009, research by Freeview has found.
John Culshaw, who is presenting new online game show 'The Generosity Game' for Freeview, said: ''Everyone loves getting the flags out and having a do for a good old royal wedding. We love a memorable sporting triumph or wondrous wildlife spectacle. So it's no surprise that they're all over the list of the nation's most uplifting TV moments. Here's to another ten years of uplifting telly.''
Among the other popular moments was Dame Kelly Holmes Olympic Gold in the 800 metres in 2008, the puddle scene in 'The Vicar of Dibley' and David Walliams swimming the River Thames earlier this year.
The research also discovered a fifth of Brits believe that British TV has never been better; nearly four out of ten of those over the age of 45 believe that British TV is currently the best in the world (39 per cent), compared to a third of adults overall.

Top 20 Uplifting TV Moments:
1. Royal Wedding: Will and Kate's balcony kiss (2011)
2. Rugby World Cup: Jonny Wilkinson's winning drop-goal (2003)
3. 'Only Fools and Horses': Delboy and Rodney bring an illegal immigrant home (2002)
4. 'I'm a Celebrity': Jordan and Pete get together (2004)
5. 'EastEnders': Alfie comes back for Kat (2005)
6. Champions League Final: Liverpool's comeback (2005)
7. 'Britain's Got Talent': Susan Boyle's audition (2009)
8. 'Planet Earth': Emperor Penguins end of winter scene (2006)
9. 'The Office': Tim and Dawn's kiss in the final episode(2003)
10. The Ashes: Freddie Flintoff consoles Brett Lee (2005)
11. 'Doctor Who': Rose defeats the daleks (2005)
12. 'Vicar of Dibley': Puddle scene (2006)
13. 'Gavin and Stacey': Smithy crashes Nessa's wedding (2010)
14. 'Sport Relief': David Walliams swims the River Thames (2012)
15. 'Top Gear': James and Richard convert a Reliant Robin into a space shuttle (2007)
16. Olympics: Kelly Holmes wins gold in the 800m (2008)
17. 'The Apprentice': Good guy Tom wins after being in the losing team (2011)
18. 'Downton Abbey': When Lady Mary and Matthew get together (2011)
19. Formula 1: Lewis Hamilton winning the World Championship (2008)
20. 'Comic Relief': Robert Webb on 'Let's Dance' (2009)
Copyright © bangshowbiz.com 2012.