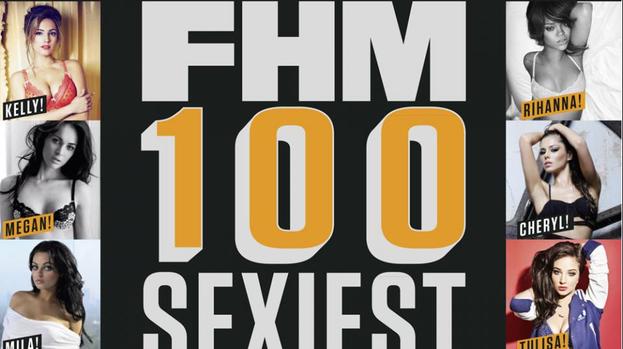 Tulisa Contostavlos has topped the FHM 100 Sexiest Women in the World list.
The 'X Factor' judge - who saw off competition from Cheryl Cole and Rihanna, who finished second and third respectively - was thrilled with the win but admitted her surprise as she believes she can polarise opinions.
Tulisa - who appears in the June issue of the magazine - said: ''Thank you so much for voting for me. It's a true honour and definitely a lovely confidence boost. I'm proud of me and I am who I am. I know that I'm marmite and I wouldn't wanna be anything less or anything more, I'm just myself. The FHM shoot is without a doubt the sexiest thing I've ever done. I believe in embracing being sexy but I'm not one to agree with stripping off for the cameras, I like to be more subtle than that as these shots show. This is an award that will stay on the mantelpiece probably for the rest of my life.''
The win follows a professionally successful year for Tulisa who won 'The X Factor' with her group Little Mix and is preparing to launch her solo recording career with debut single 'Young' from her first album 'The Female Boss' later this month.
This year's highest new entry is Irish model and 'Celebrity Big Brother' contestant Georgia Salpa, who made the list at number five.
She commented: ''People always talk about the 100 Sexiest - girls as well - and to think that you'd actually be in it...! I like Rosie Huntington-Whiteley, she's amazing, I love her and Megan Fox too, I think she's really hot.''
Other celebrities in the top ten include Rosie Jones, Katy Perry, Megan Fox, Keeley Hazell, Mila Kunis and Emily Atack
Joe Barnes, Editor of FHM, commented: ''The response we've had from readers for FHM's 100 Sexiest has been overwhelming this year - it really shows the enduring power of FHM and the brand's ability to engage with men in the UK and around the world.
''There are definitely a few surprise omissions and new entries, but it's fantastic to see such a strong British showing, with three quarters of the top 20 coming from the UK and Ireland. Big congratulations go out to Tulisa, who's had a sensational year, and I'm sure will only go on to bigger and better things over the next 12 months.''
To see the more of FHM's 100 Sexiest Women in the World visit www.fhm.com/100sexiest .

Copyright © bangshowbiz.com 2012.