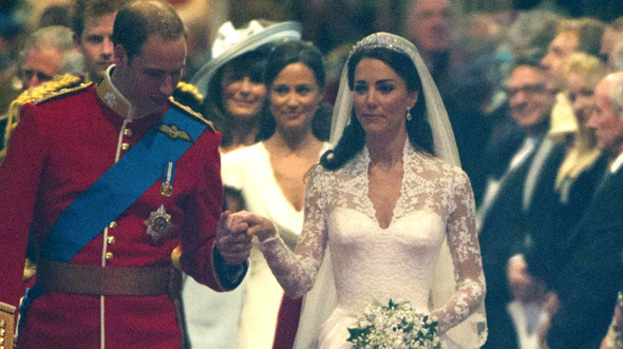 This time last year, the nation was gearing up for the Royal Wedding on April 29.

Don't dig out the bunting just yet: this year, the Duke and Duchess of Cambridge will celebrate their first anniversary in a low-key manner, at their home in Anglesey.

After a busy few months, with Prince William on RAF duty in the Falklands and Kate undertaking a host of official public duties, the royal couple plan to mark their first year as man and wife in private.

CBS News Royal Correspondent Victoria Arbiter told the Huffington Post: "I would be surprised if we even saw them.

"They just got back from a fairly ritzy skiing holiday with Catherine's family before William went off to the Falklands. They'll be aware of how [going away] would be perceived by the public."

But surely they will exchange gifts to celebrate the occasion?

Reports suggest Prince William is planning to give Kate another piece of his late mother's jewellery, but Victoria feels it may be time for Wills to give his wife something new, saying: "Kate is very gracious and she looks at William giving her any of his mother's jewellery as a tremendous sign of love but I think any girl at some point is going to be like, 'Could I just have something that's just mine?'"

The Queen is expected to write to the Royal couple, congratulating them on their achievements and first year as a married couple.

While their anniversary may be a quiet affair, Kate and William have plenty to look forward to this year.

They will play a part an important part in the Queen's Diamond Jubilee celebrations at the start of June, before William celebrates his 30th birthday on the 21st of that month.

The Duke and Duchess, along with Prince Harry, will watch as the Olympic Torch is carried through the grounds of Buckingham Palace on July 26, before attending numerous Olympic events, in their role as official ambassadors for the Games.
ONE YEAR ON