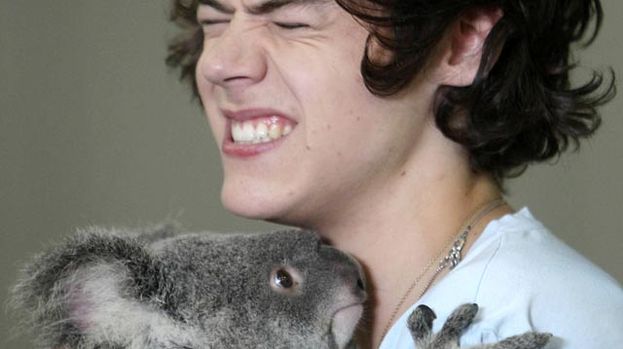 Lots of One Direction fans would love to get up close and personal with the lads but one rather cute little creature got a little too close for comfort to Harry Styles yesterday.

The 1D boys were enjoying some time out from their Australia tour and they headed to the Lone Pine Koala Sanctuary to visit the furry residents.

Louis Tomlinson, Zayn Malik and Liam Payne posed perfectly for pics with the adorable koalas, with Zayn gently placing a kiss on Kat the koala's head.

Harry also got a cuddle from Kat but she was so impressed with the heartthrob, she didn't want to let him go – who can blame her!

Mr Styles screwed his face up as the keeper attempted to free Kat's claws from the singer's shoulders.

Kat is the most envied koala in the world now and she's sure to be delighted with the news that the boys plan to return to Oz in 2013, as part of their world tour.

Niall Horan spoke of his excitement at the announcement, saying: "Our fans are simply the best in the world

"The support they have shown us has been incredible and we're all so grateful to each and every one of them. We can't wait to see everyone in Australia again next year when we come back to play our world tour in 2013".
ONE LOVE
More About One Direction