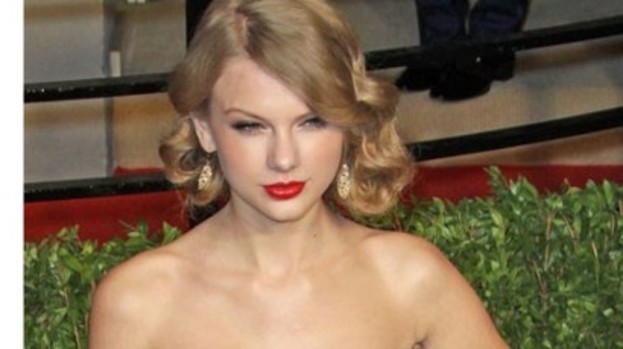 Last week, Justin Bieber admitted one of his best buddies has a crush on One Direction star Harry Styles.

He said: "I already know one of the biggest artists in the world thinks Harry is so hot, but I have been sworn to secrecy."

Names like Rihanna, Katy Perry and even Cheryl Cole were thrown to the mix as everyone tried to guess who has the hots for Harry, but it looks like the identity of the famous lady might not be such a secret anymore…

Apparently singer Taylor Swift has her eye on the curly haired heartthrob and was keen for Justin to introduce her to his new 1D friend at the Nickelodeon Kids' Choice Awards.

A source told the Daily Mirror: "Taylor is a huge One Direction fan and was excitedly bopping along to the boys when they performed on stage. Then she was chatting to Justin and told him how hot she found Harry.

"Justin was joking about trying to keep his own girlfriend, Selena Gomez, away from the band because she too loves them. Taylor went backstage and was hanging around by the group's dressing room and said a quick 'hello' to the guys.

"She started dramatically fanning herself afterwards making out like she was overwhelmed which got everyone laughing. She really likes Harry but made Justin promise not to go on the record about it."

Oops – sorry Taylor.

At 22, the stunning singer is the right side of twenty for cougar loving Harry Styles so she could be in with a shout. Get yourself over to Australia Taylor!

Ms Swift has an impressive line-up of ex boyfriends, including Jake Gyllenhaal and Taylor Lautner – will Harry be the next hunk she lands a date with?
SWIFT MOVER