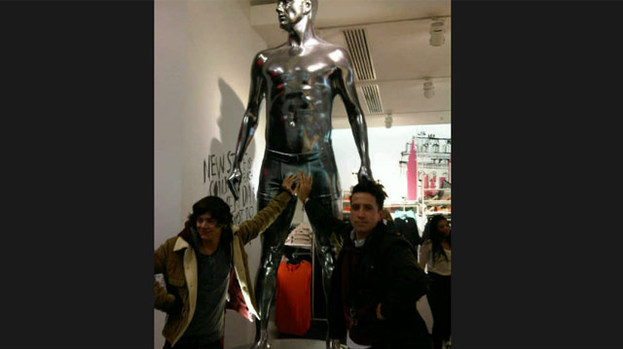 Harry Styles has turned into quite the party animal since celebrating his 18th birthday at the start of this month.

The 1D hottie has become best friends with Nick Grimshaw and his fabulously fashionable friends and the group hit the town last night, in an anti-Valentine's Day style celebration.

Fresh from wowing One Direction fans in Paris earlier on in the day, Harry teamed up with Nick for a 'bromantic' trip to the shops, stopping off to admire a model of David Beckham in H&M – well who wouldn't.

For some reason, the boys felt drawn to feel David's, em, golden balls and Nick posted a snap of their antics on Twitter, writing: "Happy Valentines Day @Harry_Styles ! (Apologies to @victoriabeckham)"

According to the Daily Mail, the pair later partied at London's trendy Groucho Club, along with fellow singleton Alexa Chung, who split from Arctic Monkeys' frontman Alex Turner last year.

Who can blame Harry for partying? Any hopes he had of reconciling with former flame Xtra Factor host Caroline Flack have been dashed, as the 32 year old took to Twitter and said: "Note to some people/mags ... You are still speculating over something that clearly finished a while ago... Leave it now.. Please."

Last week Harry enjoyed dinner and drinks with Nick and friends at Shoreditch House, where he is said to have spent a great deal of time chatting to Pixie Geldof.

A source told The Sun: "Harry has become big mates with Nick and was invited out with some of his Primrose Hill pals.

"He'd only been back from America for a couple of days but still fancied a night out.

"He wanted to carry on his birthday celebration and he knew that with this lot he'd have an interesting time."
A BEAUTIFUL FRIENDSHIP
More About One Direction