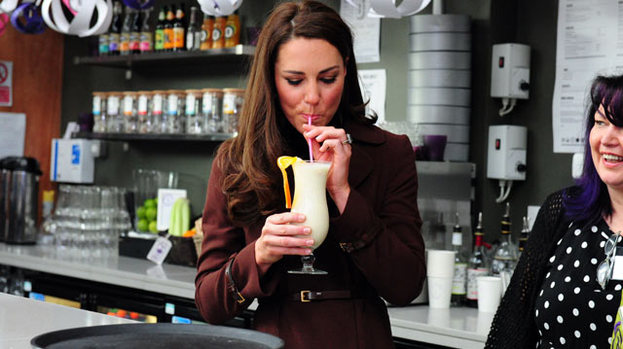 Kate Middleton has arrived in Liverpool looking chic and elegant for her busy day visiting charities.

The Duchess of Cambridge wowed the crowds as she smiled and waved, wearing a beautiful brown belted coat from high street store Hobbs, a black polo neck to ward off the winter chill, black tights and black suede high heels.

While Prince William is on duty in the Falkland Islands, Kate is spending her first Valentine's Day as a married woman without her husband, but she has plenty to keep her occupied.

The duchess received a warm welcome as she arrived at The Brink – an alcohol free bar run by Action on Addiction, a charity Kate is a patron of.

Kate smiled and showcased her friendly personality as she shook hands with staff and community leaders.

She was serenaded by the bar's resident choir – the Raucous Caucus Recovery Chorus, who performed a heartfelt rendition of an American Indian song called Wings of a Dove.

32-year-old Michael Edwards, a member of the choir, told the Daily Mail: "It's a song about hope and happiness.

"I got involved in the choir because I'm in recovery from drugs and alcohol. Doing this, it's built my confidence, it's risen up. I didn't have any before.

"It's a bit scary with a royal audience but this is what the choir has done for me, to give me the confidence to sing in front of people.

"Everybody has been excited here for weeks because of the royal visit, that something this good is happening here."

This afternoon, Kate will move on to Alder Hey children's hospital where staff, patients and their families have been putting up bunting and excitedly getting prepared for the royal arrival.

Some of the seriously ill children have been writing moving poems for the duchess, whilst others have revealed they can't wait to meet "a real life princess."

One little girl, Aimee Haswell, who suffers from a rare type of congenital heart disease, has been practicing her curtsy ever since she heard Kate would be paying a visit.
The seven-year-old's mum told the Telegraph: "Aimee is a miracle! We call her "our little star" and when we received the phone call on Tuesday to say she had been nominated to greet the Duchess, words cannot describe our feelings."

Kate will be given a tour of Alder Hey's burns and oncology units and will also visit Ronald McDonald House, where she is expected to cut the ribbon and open a new apartment.
MORE DUCHESS DELIGHTS
For more information on congenital heart disease, visit the STV Health Centre, brought to you by NHS inform.