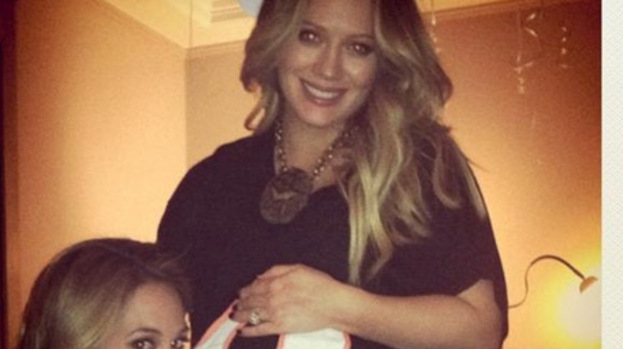 Hilary Duff had an "amazing" time at her baby shower.

The 24-year-old singer-and-actress - who is expecting her first son with husband Mike Comrie - was overwhelmed with the generosity of friends and family who attended the celebration.

She tweeted afterwards: "What an amazing day my mommy and @HaylieK threw it down!best baby shower!This baby is spoiled already! And this mama is wiped out!!

"So grateful for all my friends and family that love and support me through all these huge milestones in my life! Such special memories today! (sic)"

The shower - which was hosted by Hilary's mother Susan and sister Haylie - took place at the former 'Lizzy McGuire' star's Los Angeles home and was "small and intimate", with around 40-50 guests, a source told Usmagazine.com.

Haylie seemed to enjoy the day as much as her sister, and was pleased to be acknowledged in a gift from one of the guests.

Posting a picture of herself and Hilary holding a bib reading 'My aunt is hot', she tweeted: "Clearly @ErinLHaggerty gives the best gifts. Me & @HilaryDuff the most beautiful lil mama around..w baby's favorite bib (sic)".

Hilary - who married NHL star Mike in August 2010 - recently revealed she had been enjoying an "easy" pregnancy.

She said: "Everything's been really easy. Didn't get sick."

And gesturing to her increased chest size, she added: "These are new. These are, like, new and different, so that can be a good and bad thing, but other than that, seriously, it's pretty easy!"


Copyright © bangshowbiz.com 2012.