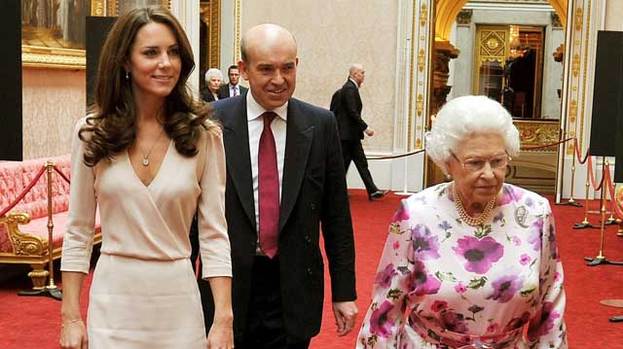 Kate Middleton seems to have won the royal seal of approval, after it was announced the duchess is to accompany the Queen to two Diamond Jubilee engagements next month.

Kate, 30, officially entered the Royal Family last April when she married Prince William, and according to courtiers, the Queen has been taking a "very close" interest in her development.

The invitation to accompany HRH during the official engagements is a huge honour for Duchess Kate, and shows just how highly she is thought of within the Royal Family.

One courtier told the Daily Mail: "The Queen is taking a very close interest in the Duchess's development.

"The engagements they will carry out together promise to be invaluable learning opportunities for Kate, as well as being a real honour."

As well as being asked to attend the prestigious Diamond Jubilee events, Queen Elizabeth has reportedly invited Kate to Buckingham Palace for regular chats and "training sessions", to help the new duchess ease into the way of royal life.

The Queen is said to be keen to do everything possible to make Kate comfortable in her new high profile role, which will include several solo engagements while Prince William is on duty with the RAF.

"The Queen has developed a great affection for Kate and wants her to feel fully supported," a source told the paper.

"She knows how big a step carrying out official duties will be for Kate and has offered to have regular meetings to make sure she feels prepared."

The Queen marked 60 years on the throne today (February 6 2012), and made a pledge to continue serving the public.

A message released by Buckingham Palace on behalf of Queen Elizabeth said: "Today, as I mark 60 years as your Queen, I am writing to thank you for the wonderful support and encouragement that you have given to me and Prince Philip over these years and to tell you how deeply moved we have been to receive so many kind messages about the Diamond Jubilee.

"In this special year, as I dedicate myself anew to your service, I hope we will all be reminded of the power of togetherness and the convening strength of family, friendship and good neighbourliness, examples of which I have been fortunate to see throughout my reign and which my family and I look forward to seeing in many forms as we travel throughout the United Kingdom and the wider Commonwealth.

"I hope also that this Jubilee year will be a time to give thanks for the great advances that have been made since 1952 and to look forward to the future with a clear head and warm heart as we join together in our celebrations.

"I send my sincere good wishes to you all."

ROYAL
The Queen's Diamond Jubilee will be celebrated with various events over the next year, with the focus being the Diamond Jubilee bank holiday weekend, held from June 2-5.

There will also be global celebrations honouring the Queen, and members of the Royal Family will travel across the world, to countries including Canada and Jamaica, as well as around England, Scotland, Wales and Northern Ireland.

Members of the Royal Family will visit Scotland from July 2 to 6 which will tie in with Holyrood Week.

Princess Elizabeth became Queen on February 6 1952, after her father, George VI, died unexpectedly in his sleep while his daughter was on tour in Kenya.

Princess Elizabeth and her husband returned to Britain the next day; but when the princess set foot back on British soil, she was known officially as Queen.