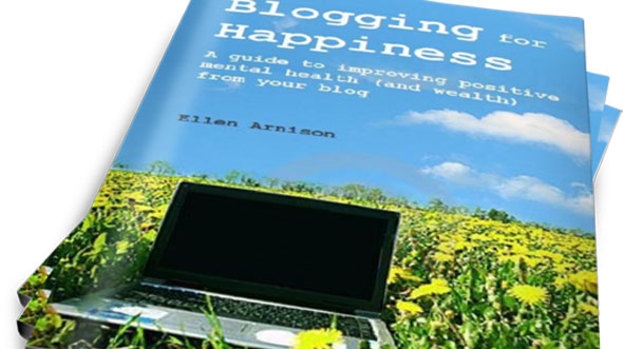 Blogger Ellen Arnison has turned her experiences into a guide to the ways keeping an online journal can help your life. Journalist Ellen, who works for stv.tv, has written Blogging For Happiness, A Guide To Improving Positive Mental Health (And Wealth) From Your Blog.

The book offers the reader advice on how to make money, ease your mind and make sense of the world around you simply by sharing the joy and the pain with the unseen online universe.

It is based around her experiences of writing a blog that has seen her go through post-natal depression, three bouts of intense grief and come out the other side smiling, still writing and making money.

Ellen's blog, began five years ago as a modest online diary to keep her company when she became a freelance writer. It tells the story of the pitfalls of her day-to-day life with three boys, a husband and various other frustrations.

She found that as more people started reading her tales of woe and joy, companies became interested in her promoting their products and looked for advertising space.

And now her book details the process of getting a blog recognised, building up a following, how the whole process of writing and communicating with the world at large can act as a therapy and release pent up anger and frustrations.

Ellen said: "Blogging for Happiness is a book that is about doing just that; writing online to make you feel better about what is going on around you.

"I suffered a series of bereavements very close together and found myself drowning in a sea of emotions I could not contain. Writing them down and finding others who understood was fantastic therapy.

"I didn't realise at first how much it was helping me break free from my depression but as the blog grew so did my confidence."

She explained that as she became more confident, the blog became more successful which in turn led to it starting to make money.

She added: "The book details the process from simply how to get the blog up and running, how to avoid the pitfalls and how to get your views out there.

"It also explains the best way to try and make some money from your writing. Blogging is one of the fastest growing markets out there and there is plenty of room for more people to join in and tell the world about their lives.

"This book is about showing people how that can be done and what it can do for you in both the short and long term."

Through her own experiences and including advice from other online specialists, Blogging for Happiness shows readers how this massively popular social media can enrich their lives both mentally and financially.

Blogging for Happiness is published by Nell James Publishers and costs £9.99 from Amazon.co.uk.