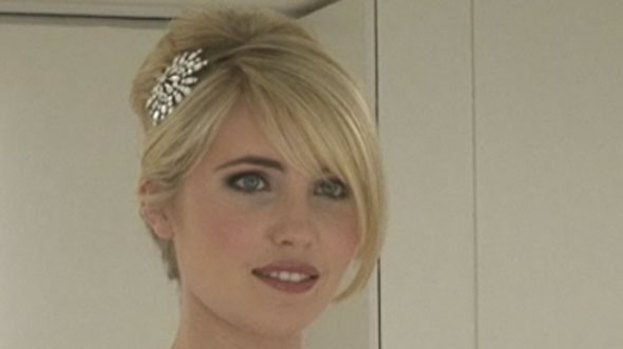 Sorry, this video is no longer available.
Videos on stv.tv are available for a limited time after first uploaded.
Royal wedding fever is really starting to take hold as Zara Phillips and Mike Tindall's big day draws closer and closer.

And after the stunning loose waves Prince William's bride Kate Middleton sported on her wedding day in April, and the striking up-do Charlene Wittstock wore to marry Prince Albert II of Monaco, the pressure is really on for the Queen's granddaughter to achieve beautiful bridal hair.

stv.tv paid a visit to the Rainbow Room in Glasgow's George Square to find out what hair experts are predicting as the royal bride's most likely looks.

Salon owner Yasmine thinks Zara will most likely opt for a classic French twist up-do. A favourite wedding hairstyle for many years, Yasmine decided to give the look a less structured feel to make it more up-to-date.

"What I'm going to do for the first look is a classic French roll with a modern twist, just making it a bit less structured; we don't' want it all sleek and structured, we want tit to be a bit more tousled looking, a wee bit more untidy looking so it's more modern," she explained.

First of all the stylist prepped Zara lookalike model Lauren's hair with some gloss foam while wet to add a shine, before drying it to add volume.

She then clipped up the top section of hair before backcombing the rest of the hair down the centre of the head. This secures it so the hair doesn't collapse when styled in an up-do.

HAIR TODAY, GONE TOMORROW:
The next step is to sweep all the hair from the left side of the head and pin it with hair grips, criss-crossing them as you go to secure them in place.

As you do this, make sure the top part of the hair is left slightly loose to help create some height for the style. Then sweep the hair over from the other side of the head, using a hairbrush and your hands to gather it.

Twist and tuck the ends round and pin them up in the "roll" shape, and check the balance to make sure the style is symmetrical.

The final thing to do is to secure the hair in place with a few more pins and hairspray, before adding a hair accessory of your choice to complete the look.

Model Lauren is wearing a Sassi Holford wedding dress from Anne Pricilla bridal shop, Miller Street Glasgow. The hair accessory used and the shoes are also from Anne Pricilla. Makeup is by Julie from the Rainbow Room Beauty team in Glasgow.

Check back on entertainment.stv.tv for the next Zara Phillips wedding hair look.