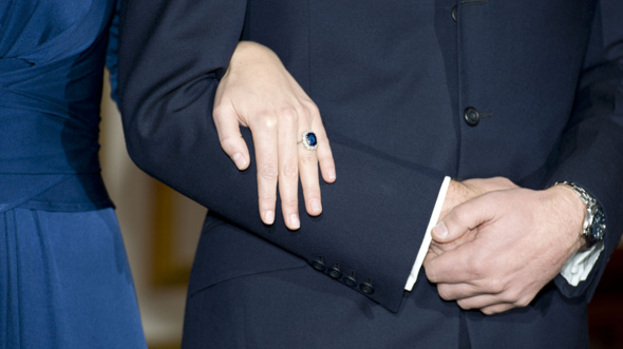 Kate Middleton looked more slender than ever as made her last public appearance with soon-to-be-hubby Will this week and is now said to be having her engagement ring resized in time for her big wedding day.
Dressed like a princess in a sophisticated navy suit to perfectly match her sapphire and diamond ring, Kate had the ring on full show as the pair greeted fans outside on a very rainy day in Lancashire on Monday.
However, it has been reported by the Sun that the 29-year-old is terrified the precious ring will fall off as she marries her prince on April 29 as the band has been turning on her finger.
A Royal source told the paper: "A bride's worst nightmare is looking down and seeing her ring has fallen off. One can only imagine how this is magnified when you are marrying the future King of England."
The £32m ring was once owned by the late Diana and was given by Will to his fiancée to make sure his mum remained a part of his special day.
Crown jewellers G Collins and Sons are said to be fitting two beads inside the sapphire band to make it fit her size H finger.
DIAMONDS ARE A GIRL'S BEST FRIEND: