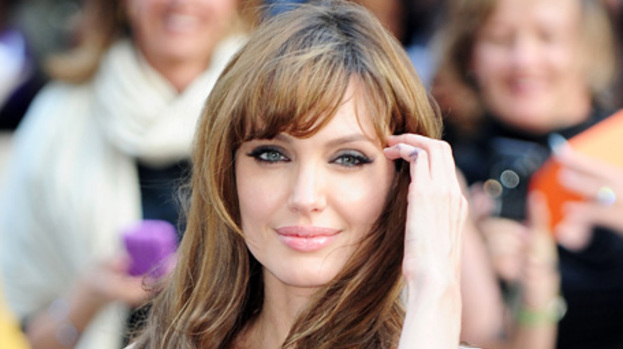 Angelina Jolie today revealed she has had a double mastectomy.
The Hollywood actress wrote about her decision to have the operation in the New York Times.
Angelina, whose mother, Marcheline Bertrand, died in 2007 after battling ovarian cancer, told how she was diagnosed with having the BRCA1 cancer gene, giving her an 87% chance of developing breast cancer and 50% risk of ovarian cancer.
She explained: "My doctors estimated that I had an 87% risk of breast cancer and a 50% risk of ovarian cancer, although the risk is different in the case of each woman.
"Only a fraction of breast cancers result from an inherited gene mutation. Those with a defect in BRCA1 have a 65% risk of getting it, on average.
"Once I knew that this was my reality, I decided to be proactive and to minimize the risk as much I could. I made a decision to have a preventive double mastectomy."
Angelina underwent three months of medical procedures with the support of fiancé Brad Pitt by her side.
She now hopes that by discussing her own decision, she can help other women going through a similar situation.
The 37-year-old said: "'I wanted to write this to tell other women that the decision to have a mastectomy was not easy, but it is one I am very happy that I made."
She continued: "I am writing about it now because I hope that other women can benefit from my experience. Cancer is still a word that strikes fear into people's hearts, producing a deep sense of powerlessness.
"But today it is possible to find out through a blood test whether you are highly susceptible to breast and ovarian cancer, and then take action."
Angelina added: "For any woman reading this, I hope it helps you to know you have options. I want to encourage every woman, especially if you have a family history of breast or ovarian cancer, to seek out the information and medical experts who can help you through this aspect of your life, and to make your own informed choices."
As well as Brad's support, Angelina also praised her children, Maddox, 11, Pax, nine, Zahara, eight, Shiloh, six, and four-year-old twins Knox and Vivienne, for the way they handled the situation.
She said: "My chances of developing breast cancer have dropped from 87% to under five per cent. I can tell my children that they don't need to fear they will lose me to breast cancer."
Liberty X star Michelle Heaton, who also had a double mastectomy after being diagnosed with the BRCA1 gene, praised Angelina's decision to open up about her treatment, during an interview on Daybreak today.
People who read this story also read