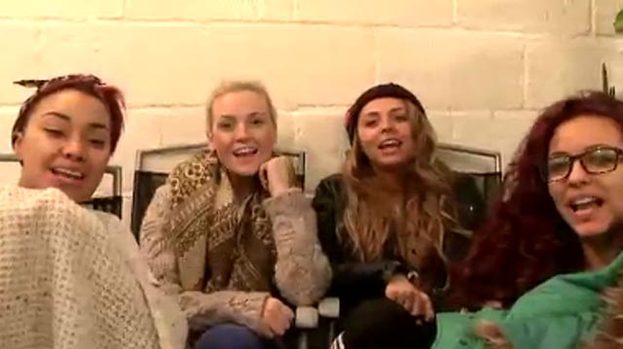 We love the Little Mix ladies so we were pleased to find out that despite looking gorgeous when they take to the stage, they're really just like the rest of us and like nothing better than snacking on treats and sometimes struggle to squeeze in those dreaded gym sessions.
The Little lovelies divulged their beauty secrets during a recent interview with Star magazine, where they opened up about the pressures of looking good in the public eye.
While the girls insisted they feel more confident now they have a loyal army of fans, they admitted fame has made them more conscious of their appearance.
When asked if they would ever leave the house without make-up on, Jesy, Leigh-Anne, Jade and Perrie all said yes, but Perrie added that she likes to keep a pair of "large shades" with her, in case the paps are around.
The girl group also admitted to enjoying the odd blow-out when it comes to their diet, with Jade revealing her guilty pleasure is curry and melted chocolate on strawberries. Not together, thankfully.
Perrie, who has been spotted stocking up on goodies on the odd late night trip to her local supermarket, added: "Nothing is better than a girls' night in with treats."
We would think nothing would be better than a night in with her boyfriend Zayn Malik and treats but hey, everyone needs a girl's night every now and again.
Perrie also said that One Direction star Zayn likes her with or without make-up on, while Leigh-Anne's beau Jordan Kiffin likes her to be fresh faced.
Make-up on or off, we think these talented young ladies are Xtra special and we're glad they're leading the way for girl power in the charts.
Related articles
People who read this story also read