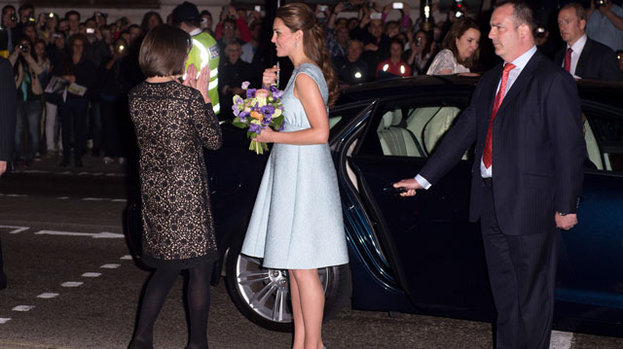 The Duchess of Cambridge attended an engagement at the National Portrait Gallery yesterday evening, looking beautiful in a 1950s style cocktail dress.
The baby blue gown, by one of Kate's favourite designers – Emilia Wickstead – perfectly accentuated her growing baby bump and as the Duchess smiled and waved at the gathered crowds, it's safe to say she looked blooming marvellous!
With the royal baby due in July, Kate isn't ditching her heels just yet, opting for a pale grey suede pair to complement her dress.
Her beautiful bouncy locks were pulled into a half up/half down style, completing the elegant look.
Kate was at the Gallery to celebrate the 11th anniversary of The Art Room charity, of which she is a patron.
The charity helps children experiencing emotional and behavioural difficulties.
The Duchess is clearly passionate about the benefits and difference The Art Room can make to young people's lives. Having studied History of Art at St Andrews University, she said: "I am a firm believer in the power of art to make a difference and The Art Room makes this on a daily basis."
Art Room founder Juli Beattie said: "The Duchess's continued commitment and endorsement of our work has been an invaluable asset in securing the foundation and laying the path for future growth of The Art Room."
A new Art Room has been launched in Ealing and the charity also hopes to open one in Edinburgh.
Related articles
People who read this story also read